The Queen of Blood: Book One of The Queens of Renthia (Hardcover)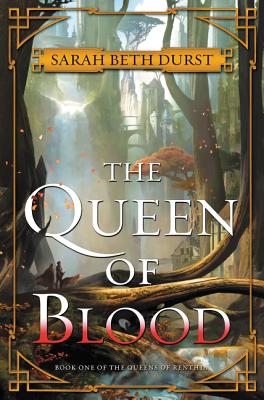 for information about purchasing this book, please contact orders@bookpassage.com
Other Books in Series
This is book number 1 in the Queens of Renthia series.
Description
---
Set in the magical world of Renthia, The Queen of Blood is Sarah Beth Durst's ambitious entry into adult epic fantasy. With the danger of Peter Brett's The Warded Man, heart of Naomi Novik's Uprooted, and lyricism of Patrick Rothfuss' The Name of the Wind, this is the first chapter in a series destined to be a classic.

Everything has a spirit: the willow tree with leaves that kiss the pond, the stream that feeds the river, the wind that exhales fresh snow . . .
But the spirits that reside within this land want to rid it of all humans. One woman stands between these malevolent spirits and the end of humankind: the queen. She alone has the magical power to prevent the spirits from destroying every man, woman, and child. But queens are still just human, and no matter how strong or good, the threat of danger always looms.
With the position so precarious, young women are chosen to train as heirs. Daleina, a seemingly quiet academy student, is under no illusions as to her claim to the throne, but simply wants to right the wrongs that have befallen the land. Ven, a disgraced champion, has spent his exile secretly fighting against the growing number of spirit attacks. Joining forces, these daring partners embark on a treacherous quest to find the source of the spirits' restlessness—a journey that will test their courage and trust, and force them to stand against both enemies and friends to save their land . . .  before it's bathed in blood.
About the Author
---
Sarah Beth Durst is the award-winning author of more than twenty fantasy books for adults, teens, and kids, including The Queens of Renthia series; Drink, Slay, Love; and The Stone Girl's Story. She won an ALA Alex Award and a Mythopoeic Fantasy Award and has been a finalist for SFWA's Andre Norton Nebula Award three times. She is a graduate of Princeton University, where she spent four years studying English, writing about dragons, and wondering what the campus gargoyles would say if they could talk. Sarah lives in Stony Brook, New York, with her husband, her children, and her ill-mannered cat. For more information, visit her at sarahbethdurst.com.
Praise For…
---
"Wow, girl! What a great story! A truly wonderful fantasy novel which doubles as an allegory for our own earthly struggle between Man and Nature. Filled with fresh ideas and excitement, told with verve and heart. This book deserves a wide readership, and I think it will find one." — Terry Brooks, NYT Bestselling author of the Shannara series
"Thrilling--heartrending--enchanting--absolutely un-put-down-able!" — Tamora Pierce, author of New York Times bestseller Bloodhound
"Durst, an award-winning YA author (Vessel) and three-time Andre Norton Award finalist, presents a thrilling beginning to a sweeping series about searching for sovereignty and truth in order to save one's land." — Library Journal (starred review)
"Mythopoeic Award-winner Durst (Chasing Power) launches her Queens of Renthia series with a stellar and imaginative tale...In addition to a solid cast of characters and great political intrigue, Durst delivers some fascinating worldbuilding, and the spirits are malevolent, cunning, wild, and mysterious antagonists." — Publishers Weekly (starred review)
"The Queen of Blood is full of rich tension from the opening scene to the nail-biting finale." — Jeff Wheeler, Wall Street Journal bestselling author of Kingfountain and Muirwood series
"Durst dives into adult fantasy with thrilling results." — Shelf Awareness -- Starred Review