A Perilous Journey of Danger and Mayhem #2: The Treacherous Seas (Paperback)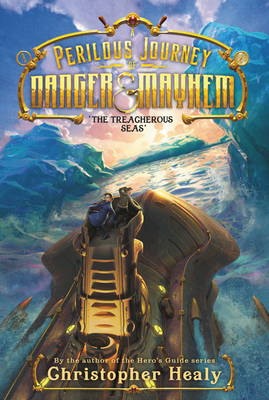 $7.99
Email or call for price
Other Books in Series
This is book number 2 in the Perilous Journey of Danger and Mayhem series.
Description
---
The second book in the new adventure trilogy from the beloved author of The Hero's Guide to Saving Your Kingdom.
It's 1883—only a few months after Molly Pepper; her mother, Cassandra; and her friend, Emmett, saved New York from an attack by the megalomaniacal Ambrose Rector while managing to preserve the reputations of Alexander Graham Bell and Thomas Edison, whose technology was manipulated in Rector's scheme. Their selfless heroism will finally earn them a place in the Inventors' Guild, alongside the greatest minds of their generation.
Unless, of course, no one knows that they did any of that.
Left with nothing but empty promises and a struggling pickle shop after the government chooses to cover up the crisis, Molly, Cassandra, and Emmett have no idea where to turn—until they learn of a daring expedition to the South Pole, where an meteorite of mysterious power is embedded, and where Emmett's father, explorer and ship captain Wendell Lee, disappeared years ago.
With the fate of the world hanging in the balance, our heroes commandeer an experimental seacraft to make their play on the pole. But the trip is more treacherous than they realize, and there's no guarantee that they will return successful—if they even return at all.
About the Author
---
Christopher Healy is the author of The Hero's Guide to Saving Your Kingdom, a New York Times Book Review Editor's Choice, as well as its two sequels, The Hero's Guide to Storming the Castle and The Hero's Guide to Being an Outlaw. Before becoming a writer, he worked as an actor, an ad copywriter, a toy store display designer, a fact-checker, a dishwasher, a journalist, a costume shop clothing stitcher, a children's entertainment reviewer, and a haunted house zombie. He lives in New Jersey with his wife, two children, and a dog named Duncan. You can visit him online at christopherhealy.com.