The Monogram Murders: A New Hercule Poirot Mystery (Paperback)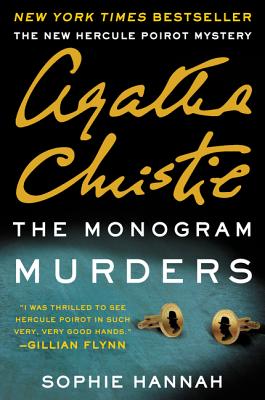 $15.99

Usually Ships in 1-5 Days
Description
---
"I'm a dead woman, or I shall be soon . . ."
Hercule Poirot's quiet supper in a London coffeehouse is interrupted when a young woman confides to him that she is about to be murdered. Though terrified, she begs Poirot not to find and punish her killer. Once she is dead, she insists, justice will have been done. Later that night, Poirot learns that three guests at a London Hotel have been murdered, and a monogrammed cufflink has been placed in each one's mouth. Could there be a connection with the frightened woman? While Poirot struggles to put together the bizarre pieces of the puzzle, the murderer prepares another hotel bedroom for a fourth victim.
About the Author
---
SOPHIE HANNAH is the New York Times bestselling author of numerous psychological thrillers, which have been published in 51 countries and adapted for television, as well as The Monogram Murders, the first Hercule Poirot novel authorized by the estate of Agatha Christie, and its sequels Closed Casket, The Mystery of Three Quarters, and The Killings at Kingfisher Hill. Sophie is also the author of a self-help book, How to Hold a Grudge, and hosts the podcast of the same name. She lives in Cambridge, UK.
Agatha Christie is the most widely published author of all time, outsold only by the Bible and Shakespeare. Her books have sold more than a billion copies in English and another billion in a hundred foreign languages. She died in 1976, after a prolific career spanning six decades.
Praise For…
---
"Sophie Hannah does an egoless, silky job of reviving Agatha Christie's beloved Belgian detective Hercule Poirot...enough so to hope that Hannah turns to Miss Marple next." — USA Today
"Christie herself, some might say, could do no better.... Enough twists, turns, revelations and suspects to cook up a most satisfying red-herring stew. Literary magic." — Washington Post
"Does Sophie Hannah's Poirot live up to our expectations? Yes, he does, and markedly so.... As tricky as anything written by Agatha Christie. The Monogram Murders has a life and freshness of its own. Poirot is still Poirot. Poirot is back." — Alexander McCall Smith, New York Times bestselling author of The No. 1 Ladies' Detective Agency
"Perfect...a pure treat." — Tana French, New York Times-bestselling author of The Secret Place
"Terrific.... uncanny. As Hercule Poirot himself would say, 'Bravo, Madame Hannah. Bravo.' " — Boston Globe
"Sophie Hannah is a prodigious talent. I can't wait to see what she does next." — Laura Lippman
"Sophie Hannah's idea for a plot line was so compelling and her passion for my grandmother's work so strong, that we felt that the time was right for a new Christie to be written." — Mathew Prichard, grandson of Agatha Christie
"Sharply written and rigorously plotted, this Poirot mystery rivals many of Christie's own." — NPR
"Equal parts charming and ingenious, dark and quirky and utterly engaging…I was thrilled to see Poirot in such very, very good hands. Reading The Monogram Murders was like returning to a favorite room of a long-lost home." — Gillian Flynn, #1 New York Times bestselling author of Gone Girl
"Sophie Hannah's The Monogram Murders does Christie proud. Our favorite detective is back and in impeccable form!" — Charles Todd, New York Times bestselling author of An Unwilling Accomplice