House of Secrets: Battle of the Beasts (Paperback)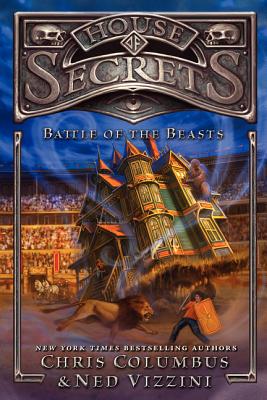 for information about purchasing this book, please contact orders@bookpassage.com
Other Books in Series
This is book number 2 in the House of Secrets series.
Description
---
The sequel to the New York Times bestselling House of Secrets—hailed by J. K. Rowling as "a breakneck, jam-packed roller coaster of an adventure"—this second installment by Hollywood director Chris Columbus (of Harry Potter fame) and bestselling author Ned Vizzini (It's Kind of a Funny Story) is full of even more explosive twists and turns.
Since the siblings' last adventure, life in the Walker household is much improved—the family is rich and the Wind Witch is banished. But no Walker will be safe until she is found. Summoning her to San Francisco brings all the danger that comes with her, and puts the Walkers in the crosshairs of a mysterious journey through Denver Kristoff's books. As the Walkers travel from ancient Rome to World War II to Tibet, they are tested in ways that cut deeper than before—by Denver Kristoff, the Wind Witch, and one another.
Fantasy fiction fans who enjoy Rick Riordan will find much to love in this thrilling and action-packed novel.
About the Author
---
Chris Columbus has written, directed, and produced some of the most successful box-office hits in Hollywood history. He first made his name by writing several original scripts produced by Steven Spielberg, including the back-to-back hits Gremlins and The Goonies. As a director, Columbus has been at the helm of such iconic projects as Harry Potter and the Sorcerer's Stone, Harry Potter and the Chamber of Secrets, Home Alone, Stepmom, and Mrs. Doubtfire. As a producer, Columbus was also behind the hit films Night at the Museum and The Help.
Ned Vizzini (1981-2013) was the bestselling author of the acclaimed young adult books It's Kind of a Funny Story (also a major motion picture), Be More Chill, Teen Angst? Naaah . . . , and The Other Normals. He wrote for the New York Times, Salon, and The New Yorker. He also wrote for TV, including MTV's hit show Teen Wolf. His work has been translated into twenty-five languages.
Praise For…
---
"A dark action-adventure-fantasy with surprising heart." — Kirkus Reviews
"[An] imaginative, fast-paced adventure that is sure to please fans." — Booklist
Praise for HOUSE OF SECRETS: "A breakneck, jam-packed rollercoaster of an adventure about the secret power of books, HOUSE OF SECRETS comes complete with three resourceful sibling heroes, a seriously creepy villainess, and barrel loads of fantasy and fear." — J.K. Rowling
Praise for HOUSE OF SECRETS: "A swift-paced . . . clever page-turner for any reader who has wanted to take part in literary adventures. . . . This story is compelling, great fun, and sure to be popular." — ALA Booklist
Praise for HOUSE OF SECRETS: "In a rousing adventure reminiscent of THE EMERALD ATLAS, director Columbus and author Vizzini catapult a trio of siblings across time and space, as they square off against a forgotten writer's literary legacy... The nonstop action comes with increasingly high stakes...wildly imaginative." — Publishers Weekly
Praise for HOUSE OF SECRETS: "The story is an engrossing page-turner with a parade of near-escapes, hilarious mishaps, and courageous face-offs with terrifying villains. The nonstop action will keep readers on the edge of their seats" — Bulletin of the Center for Children's Books