A Train in Winter: An Extraordinary Story of Women, Friendship, and Resistance in Occupied France (The Resistance Quartet #1) (Large Print / Paperback)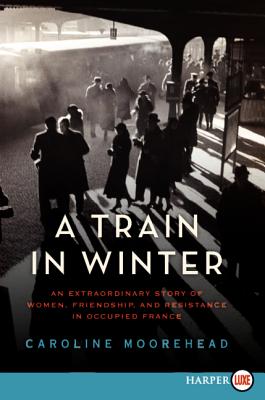 for information about purchasing this book, please contact orders@bookpassage.com
Other Books in Series
This is book number 1 in the The Resistance Quartet series.
Description
---
In January 1943, 230 women of the French Resistance were sent to the death camps by the Nazis who had invaded and occupied their country. This is their story, told in full for the first time—a searing and unforgettable chronicle of terror, courage, defiance, survival, and the power of friendship. Caroline Moorehead, a distinguished biographer, human rights journalist, and the author of Dancing to the Precipice and Human Cargo, brings to life an extraordinary story that readers of Mitchell Zuckoff's Lost in Shangri-La, Erik Larson's In the Garden of Beasts, and Laura Hillenbrand's Unbroken will find an essential addition to our retelling of the history of World War II—a riveting, rediscovered story of courageous women who sacrificed everything to combat the march of evil across the world.
About the Author
---
Caroline Moorehead is the New York Times bestselling author of the Resistance Quartet, which includes A Bold and Dangerous Family, Village of Secrets, and A Train in Winter, as well as Human Cargo, a National Book Critics Circle Award finalist. An acclaimed biographer, she has written for the New York Review of Books, The Guardian, and The Independent. She lives in London and Italy.
Praise For…
---
"By turns heartbreaking and inspiring." — Caroline Weber, New York Times Book Review
"A compelling account of human suffering and courage in the face of appalling brutality. And by the careful use of detail, and an almost obsessive curiosity, Ms. Moorehead has succeeded in frustrating one of the main aims of the Nazis' . . . the memory of 'le Convoi des 3100' has not disappeared." — Patrick Marnham, Wall Street Journal
"[A] moving novelistic portrait. . . . An inspiring and fascinating read." — Meredith Maran, People (3½ stars)
"[Moorehead] traces the lives and deaths of all her subjects with unswerving candor and compassion. . . . In Moorehead's telling, neither evil nor good is banal; and if the latter doesn't always triumph, it certainly inspires." — USA Today
"The first complete account of these extraordinary women and, incredibly, over 60 years later we are still learning new and terrible truths about the Holocaust. . . . Moorehead's group portrait offers an important new perspective not only on the suffering and courage of those in Auschwitz and other concentration camps, but of the complex French response to the German occupation Careful research and sensitive retelling." — Buzzy Jackson, Boston Sunday Globe
"Journalist and renowned biographer Caroline Moorehead weaves together first person accounts including interviews, diaries, letters, and photographs, creating a chorus of women's voices whose stories may never have been told so clearly before now. . . . Her narrative seamlessly comes together in order to share a significant part of history whose time has come to be heard." — Christian Science Monitor
"A necessary book. . . . Compelling and moving. . . . The literature of wartime France and the Holocaust is by now so vast as to confound the imagination, but when a book as good as this comes along, we are reminded that there is always room for something new." — Jonathan Yardley, Washington Post
"Haunting account of bravery, friendship, and endurance." — Marie Claire
"An extremely moving and intensely personal history of the Auschwitz universe as experienced by these women. . . . A powerful and moving book." — Natasha Lehrer, Times Literary Supplement (UK)
"Compelling . . . Moorehead weaves into her suspenseful, detailed narrative myriad personal stories of friendship, courage, and heartbreak." — Kirkus Reviews
"Heightened by electrifying, and staggering, detail, Moorehead's riveting history stands as a luminous testament to the indomitable will to survive and the unbreakable bonds of friendship." — Booklist (starred review)
"Even history's darkest moments can be illuminated by spectacular courage, such as courage that Caroline Moorehead movingly celebrates in A Train in Winter. . . . Moorehead has created a somber account, sensitively rendered, of yet another grim legacy of war." — Richmond Times-Dispatch
"Remarkable." — Eric Herschthal, The Jewish Week
"A miraculous story about friendship and the will to overcome extraordinary cruelty, heartache and loss." — The Jewish Journal, "Best Books of 2011"