The Book of Times: From Seconds to Centuries, a Compendium of Measures (Paperback)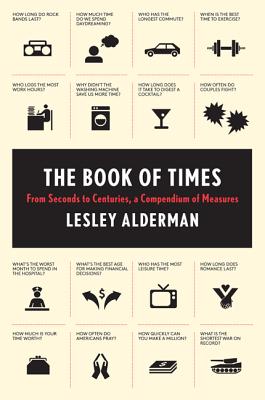 $15.99

Usually Ships in 1-5 Days
Description
---
An endlessly fascinating, beautifully designed survey of time—how long things take, how long things last, and how we spend our days
Our relationship to time is complex and paradoxical: Time stands still. Time also flies. Tomorrow is another day. Yet there's no time like the present. We want to do more in less time, but wish we could slow the clock. And despite all our time-saving devices—iPhones, DVRs, high-speed trains—Americans feel that they have less leisure time than ever.
In an era when our time feels fractured and imperiled, The Book of Times encourages readers to ponder time used and time spent. How long does it take to find a new mate, digest a hamburger, or compose a symphony? How much time do we spend daydreaming, texting, and getting ready for work? The book challenges our beliefs and urges us to consider how, and why, some things get faster, some things slow down, and some things never change (the need for seven to eight hours of sleep).
Packed with compelling charts, lists, and quizzes, as well as new and intriguing research, The Book of Times is an addictive, browsable, and provocative look at the idea of time from every direction.
About the Author
---
Lesley Alderman is a writer and editor on health and finance. She cowrote the "Patient Money" column for the New York Times for three years and is a former deputy editor of Real Simple and staff writer for Money. Alderman has contributed articles to a variety of national publications, including Barron's, Bloomberg Businessweek, EverydayHealth.com, Parenting, Prevention, and Time Books. She edited First Impressions: What You Don't Know About How Others See You (Bantam), which was translated into twenty-four languages. Alderman is also a certified yoga instructor. She lives with her family in Brooklyn.
Praise For…
---
"This clever and entertaining compendium contains everything you'd want to know about the ticking away of seconds, minutes, hours, days, years, decades and centuries." — Time.com
"Alderman's greatest achievement is the continual delivery of quirky knowledge that our collective curiosities crave." — Forbes
"Fascinated by how we spend-and waste-our most precious commodity, journalist Lesley Alderman gathered the sometimes-surprising stats for her debut, The Book of Times" — People
"...a fascinating foray into familiar terrain and a revealing look at how we really spend our lives." — Mental Floss
"A new book confirms what most of us already suspect-timing is everything. In The Book of Times, which was published in early February, Lesley Alderman, a health and finance reporter, compiled data from hundreds of studies to offer insight into how we spend our time." — JESSICA FERRI for Yahoo!
"Brooklyn journalist Lesley Alderman collects hundreds of surprising surveys from around the world revealing how we spend our hours." — New York Post
"...a compendium of surprising measurements of everything from love affairs to mental functions. How much of our waking time do we spend daydreaming? Nearly half. How long does it take to have sex, on average? A brisk 19.2 minutes." — Parade Pick
"Read this book and you'll find out how time impacts … areas of life such as love, work, money, and family." — The Columbian
"This handy-dandy little volume encourages us to consider [time] hundreds of fascinating ways. ... Burrowing down into the many interesting factoids of this infinitely browse-able tome, no matter how long you stay at it, makes for time well spent." — American Profile
"The Book of Times is informative and entertaining and a marvelous way to while away the time on a business commute or a lazy afternoon." — Iron Mountain Daily News