Far to Go: A Novel (Paperback)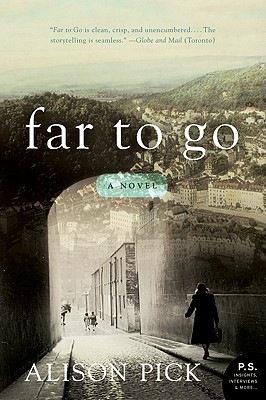 for information about purchasing this book, please contact orders@bookpassage.com
Description
---
"Deftlystructured and . . . seamless." —Globe and Mail (Toronto)
 
"[A]nuanced and layered portrait of betrayal. . . . The strength of Far to Golies in Pick's ability to show precisely why one person could turn on another,how a single word spoken on impulse could have devastating results." —MontrealGazette

Alison Pick, acclaimed author of The Sweet Edge, delivers the moving and suspenseful story of an affluentJewish family in Czechoslovakia at the onset of World War II, and the governesswho forever alters their future when she seeks shelter in their midst.Interwoven with a present-day narrative revealing each character's fates after thewar, Far to Go is an emotionallyvivid, masterfully wrought narrative that the Montreal Gazette calls, "an intriguing experiment in the art ofstorytelling."
About the Author
---
Alison Pick was the Bronwen Wallace Award winner for the most promising writer under thirty-five in Canada. Her first novel is The Sweet Edge, and her second novel, the bestseller Far to Go, was nominated for the Man Booker Prize, won the Canadian Jewish Book Award for Fiction, and was named a "Top 10 of 2010" book by the Toronto Star. Between Gods, named a "Best Book" by both the Globe and Mail and CBC, has been nominated for the prestigious BC National Award for Nonfiction.