Be Love Now: The Path of the Heart (Paperback)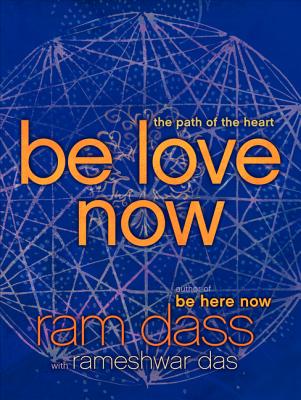 $16.99

Usually Ships in 1-5 Days
Description
---
Ram Dass's long-awaited Be Love Now is the transformational teaching of a forty year journey to the heart. The author of the two-million-copy classic Remember, Be Here Now and its influential sequel Still Here, Dass is joined once more by Rameshwar Das—a collaborator from the Love Serve Remember audio recordings—to offer this intimate and inspiring exploration of the human soul. Like Deepak Chopra's Book of Secrets, the Dalai Lama's Art of Happiness, and Jon Kabat-Zinn's Coming to Our Senses, Ram Dass's Be Love Now will serve as a lodestar for anyone seeking to enhance their spiritual awareness and improve their capacity to serve—and love—the world around them.
About the Author
---
Ram Dass is the author of the landmark classic Be Here Now and the acclaimed Still Here and Be Love Now. After meeting his guru in India in 1967, Ram Dass became a pivotal spiritual influence on American culture.
Rameshwar Das is a writer and photographer who met Ram Dass in 1967. He was inspired to go to India and was given the name Rameshwar Das by Neem Karoli Baba.
Praise For…
---
"A gift of love from the man who introduced me to the idea of higher consciousness and became one of my greatest teachers." — Dr. Wayne Dyer
"It is a compelling text, chock full of history, teaching, and truth." — New Age Retailer
"So many people are desperately searching for love, whether consciously or unconsciously. May Ram Dass' intimate and heartfelt account inspire others to find their own path of true love, compassion, and joyful service." — Thich Nhat Hanh, author of Savor
"The awakening power of love shines on every page of this wonderfully inspiring book. With insight and engaging humor, Ram Dass shares with us a lifetime of spiritual practice. This book is a rare treat. " — Joseph Goldstein, author of A Heart Full of Peace
"If the West even approaches enlightenment in the 21st Century, there's no way to overestimate the role of Ram Dass in making it happen. He planted seeds that turned into a million trees; if and when they blossom, they will exude the fragrance of his teaching forever." — Marianne Williamson, author of The Age of Miracles
"Read this delicious, ecstatic journey and be awakened, be pulled body and soul into the heart of love." — Jack Kornfeld, author of A Path with Heart
"There is no one better than Ram Dass to transmit the essence of "Eastern" religion and philosophy to Westerners. He has made the journey and from the depth of his Joy and Wisdom he shares with us the journey of so many great Beings." — Krishna Das, Kirtan Wala
"Offering a deeply personal yet universal exploration of what he has learned on his four-decade pilgrimage across cultures and religious traditions, Ram Dass shares powerful lessons on love..." — Spiritual Media Blog
"His deeply personal and profound process of inner transformation—through his guru's "fierce grace" and a life of love and service—is told with characteristic candor and humor. Rich with teaching stories, Be Love Now is an invitation to open our hearts." — Yoga International
"'Be Love Now,' like 'Be Here Now,' is equal parts memoir and manual of meditation. It's hard to believe the two books are separated by more than 30 years. The writing in 'Be Love Now' is as fresh and charged with insight as the earlier one." — Los Angeles Times
"It is not exaggerating to say that Ram Dass (formerly known as Harvard psychologist Dr. Richard Alpert) inspired multiple generations of spiritual seekers. Be Love Now proves he continues to do so through writing, teaching and most importantly, by example." — LA Yoga
"You might say it took four decades to get from 'Here' to 'Love.' For Ram Dass, the journey can be measured more accurately in inches--from his head, to his heart." — The Maui News
"The celebrated teacher guides us through pitfalls and perils of our own spiritual journey." — The Edge
"Like Ram Dass' earlier works, Be Love Now is amusing, eloquent, and wise; it's a sublime addition to an already invaluable spiritual oeuvre." — Yoga Journal