Biscuit Plays Ball (My First I Can Read) (Paperback)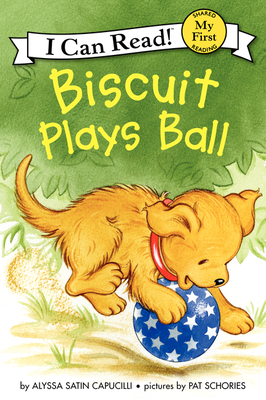 $4.99

Usually Ships in 1-5 Days
Description
---
For fans of Clifford and Spot, welcome everybody's favorite little yellow puppy, Biscuit, in an I Can Read adventure!
Biscuit is excited to be at the ball game, but no dogs are allowed in the game itself. He doesn't just want to watch, though—Biscuit wants to play ball, too! Can the determined puppy find a way to join in the fun? Just right for the youngest of readers—and for anyone who has ever wanted to play along with the big kids—Biscuit's ball game adventure will prove supremely satisfying.
Biscuit Plays Ball is a My First I Can Read book, which means it's perfect for shared reading with a child.
About the Author
---
Alyssa Satin Capucilli is the author of the first story about Tulip and Rex, Tulip Loves Rex, as well as the bestselling Biscuit books and many other beloved children's books. She lives in a book-filled home in Hastings-on-Hudson, New York.
Pat Schories's engaging illustrations of the puppy Biscuit are modeled on her own dog. In addition to having illustrated all the Biscuit books, she is also the artist and author of He's Your Dog and Mouse Around. Ms. Schories lives in Cold Spring, New York.