101 Places Not to See Before You Die (Paperback)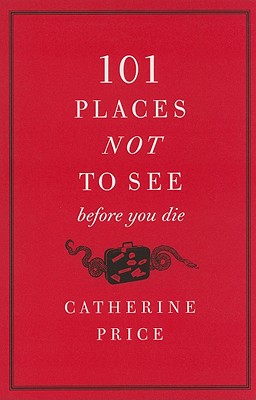 $13.99

Usually Ships in 1-5 Days
Description
---
"This clever collection of travel advisories lists all the places that are definitely not worth a trip, including a rendering plant, Times Square on New Year's Eve, and, bien sûr, Euro Disney." — Entertainment Weekly

A spirited, ingenious, tongue-in-cheek guide to some of the least appealing destinations and experiences in the world.

From the Grover Cleveland Service Area to the Beijing Museum of Tap Water to, of course, Euro Disney, 101 Places Not to See Before You Die brings you lively tales of the most ill-conceived museums, worst theme parks, and grossest Superfund sites that you'll ever have the pleasure of not visiting. Journalist Catherine Price travels the globe for stories of misadventure to which any seasoned traveler can relate—including guest entries from writers such as Nicholas Kristof, Mary Roach, Michael Pollan, Rebecca Solnit, and A. J. Jacobs—and along the way she discovers that the worst experiences are often the ones we'll never forget.

About the Author
---
Catherine Price is an avid traveler and writer who hopes never to see a body farm firsthand. Coauthor of The Big Sur Bakery Cookbook and a contributing editor at Popular Science, she has written for the New York Times, O, the Oprah Magazine, Salon, Slate, and The Best American Science Writing.
Praise For…
---
"This clever collection of travel advisories lists all the places that are definitely not worth a trip, including a rendering plant, Times Square on New Year's Eve, and, bien sûr, Euro Disney." — Entertainment Weekly
"Price's delightful work is utterly hilarious." — Arthur Frommer
"Weird and funny." — The Washington Post
"Funny and engaging." — USA Today
"A hilarious look at some of the most uninviting, overcrowded, unsanitary, overhyped, and stomach-churning locales on the planet." — Budget Travel
"Amusing." — The San Francisco Chronicle
"Price is a delightful writer who manages to give readers more giggles in under-two-page entries than many writers could in an entire chapter. . . . Highly recommended." — Library Journal
"101 Places Not to See Before You Die takes a fascinating and hilarious look at some of the least appealing places and events on the planet—from Montana's Testicle Festival to the Amsterdam Sexmuseum—and explains in lucid terms just what you'll be missing out on." — Salon
Coverage from NPR