My New American Life: A Novel (Hardcover)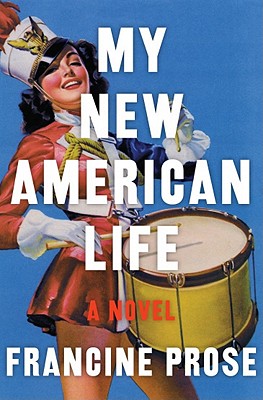 $25.99
Email or call for price
Description
---
"Francine Prose is a world-classsatirist who's also a world-class storyteller."—Russell Banks
 
Francine Prose captures contemporary America at itsmost hilarious and dreadful in My New American Life, a darkly humorousnovel of mismatched aspirations, Albanian gangsters, and the ever-elusiveAmerican dream. Following her New York Times bestselling novels BlueAngel and A Changed Man, Prose delivers the darkly humorous storyof Lula, a twenty-something Albanian immigrant trying to find stability andcomfort in New York City in the charged aftermath of 9/11. Set at the frontlines of a cultural war between idealism and cynicism, inalienable rights andimplacable Homeland Security measures, My New American Life is a movingand sardonic journey alongside a cast of characters exploring what it means tobe American.
About the Author
---
Francine Prose is the author of twenty-one works of fiction, including Mister Monkey; the New York Times bestseller Lovers at the Chameleon Club, Paris 1932; A Changed Man, which won the Dayton Literary Peace Prize; and Blue Angel, a finalist for the National Book Award. Her works of nonfiction include Anne Frank: The Book, The Life, The Afterlife, and the New York Times bestseller Reading Like a Writer. The recipient of numerous grants and honors, including a Guggenheim, a Fulbright, and a Director's Fellow at the Center for Scholars and Writers at the New York Public Library, she is a former president of PEN American Center and a member of the American Academy of Arts and Letters and the American Academy of Arts and Sciences. She lives in New York City.
Praise For…
---
"An illuminating and ultimately upbeat look at America's immigrant situation that all fiction readers will enjoy."
— Barbara Hoffert, Library Journal

"Prose is dazzling in her sixteenth book of spiky fiction, a fast-flowing, bittersweet, brilliantly satirical immigrant story that subtly embodies the cultural complexity and political horrors of the Balkans and Bush-Cheney America."
— Donna Seaman, Booklist (starred review)

"Utterly charming. Savvy about the shady practices of both US immigration authorities and immigrants themselves... Entertaining, light yet not trivial, a joy to read."
— Lionel Shriver

"Prose's characters in MY NEW AMERICAN LIFE are complex and brilliantly drawn (culturally distinct but without the usual clichés)."
— Simon Van Booy, Bomb Magazine

"Nothing is beyond the artistic reach of Francine Prose"
— Shelf Awareness

"A tangy mixture of satire and sentiment. . . . Ms. Prose uses her heroine's outside status to make a lot of funny . . . observations about the cosseted life of well-to-do Americans."
— Michiko Kakutani, New York Times

"Prose . . . is, as always, sharply intelligent."
— NPR.org

"Prose succeeds by transforming anxiety into compassion—it's a little lever that gets tripped when we truly imagine what another person feels."
— Los Angeles Times

"There has been a lot written about the Bush and Cheney days, but rarely from such an amusing perspective . . . at once honest, complicated, sexy, funny and—ultimately—uplifting."
— BookPage

"A superb novel . . . a wickedly entertaining read. . . . Prose is on top of her game . . . the fluidity of the prose surpassing, I think, her work in Blue Angel."
— The Millions

"Prose spins the many straws of American culture into a golden tale, shimmering with hilarious, if blistering, satire."
— Helen Simonson, Washington Post

"My New American Life is—happily—vintage Prose: cheerfully pessimistic, smart, funny, with characters unnervingly spot-on in their stages of outrage, denial, malaise or disillusionment."
— Miami Herald

"A fast-moving novel . . . [that] brings together cultural satire, mystery, a psychosexual thriller, and political outrage. . . . Exceptionally entertaining, fun to read in its sentences, incidents, scenes."
— Michael Dirda, New York Review of Books

"She's a perfect observer of American life in the opening decade of the 21st century. . . . Wry . . . witty . . . a book that brims with smart surprises."
— Ron Carlson, New York Times Book Review

"Prose is in her sweet spot as a nimble chronicler of contemporary culture."
— Entertainment Weekly

"In My New American Life, Francine Prose cracks open that old chestnut about the immigrant reinvention experience and injects, yes, new life into it."
— USA Today

"Fun and funny,...a satire of immigration and its discontents..."
— San Francisco Chronicle

"Prose's real aim is to characterize and caricature modern American life, mostly in a gentle way that will leave readers smarter than they were before..."
— St. Louis Post-Dispatch