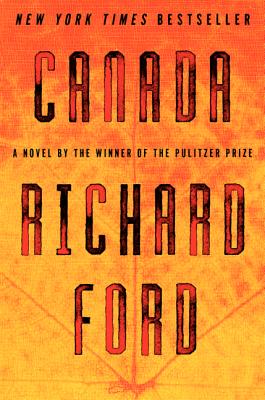 for information about purchasing this book, please contact orders@bookpassage.com
June 2012 Indie Next List
---
"Canada, Richard Ford's long-awaited new novel, is not one to be rushed. While the plot sounds sensational -- robbery, murders, a flight across the Canadian border -- Ford's laconic, measured prose forces the reader to slow the pace and savor the story. This is a novel about actions, intentions, and consequences as well as about belonging, introspection, and the solitary nature of life. Powerful and atmospheric, Canada will excite and gratify Ford's fans and introduce newcomers to a masterful American writer."
— Tova Beiser, Brown University Bookstore, Providence, RI
Description
---
The only writer ever to win both the Pulitzer Prize and Pen/Faulkner Award for a single novel (Independence Day) Richard Ford follows the completion of his acclaimed Bascombe trilogy with Canada. After a five-year hiatus, an undisputed American master delivers a haunting and elemental novel about the cataclysm that undoes one teenage boy's family, and the stark and unforgiving landscape in which he attempts to find grace.
A powerful and unforgettable tale of the violence lurking at the heart of the world, Richard Ford's Canada will resonate long and loud for readers of stark and sweeping novels of American life, from the novels of Cheever and Carver to the works of Philip Roth, Charles Frazier, Richard Russo, and Jonathan Franzen.
About the Author
---
Richard Ford is the author of The Sportswriter and Independence Day. He is winner of the Prix Femina in France, the 2019 Library of Congress Prize for American Fiction, and the Princess of Asturias Award in Spain.  He is also the author of the New York Times bestseller Canada.  His story collections include the bestseller Let Me Be Frank with You, Rock Springs, and A Multitude of Sins.  He lives in Boothbay, Maine, with his wife, Kristina Ford.
Praise For…
---
"This is a brilliant and engrossing portrait of a fragile American family and the fragile consciousness of a teenage boy. It is also fascinating in the way it reveals the plot in the opening page and then winds backwards, offering a more and more intimate version of the story." — Colm Toibin
"Pure vocal grace, quiet humor, precise and calm observation." — The New Yorker
"[Canada]confirms his position as one of the finest stylists and most humane storytellers in America… his most elegiac and profound book…" — Washington Post
"Robust and powerful… Ford is able to tap into something momentous and elemental about the profound moral chaos behind the actions of seemingly responsible people… Ford has dramatized the frightening discovery of the world's anarchic heart." — Wall Street Journal
"A triumph of voice.... The writing... is spare, but heartbreaking." — USA Today
"Richard Ford returns with one of his most powerful novels yet…Ford has never written better…Canada is Richard Ford's best book since Independence Day, and despite its robbery and killings it too depends on its voice, a voice oddly calm and marked by the spare grandeur of its landscape." — Daily Beast
"Awe-inspiring… The laconic, grief-stricken voice of Dell, looking back on his past, trying to make some kind sense of what happened when his family imploded, keeps you turning pages, as do the quiet, thought-provoking revelations that Ford drops in throughout." — O, the Oprah Magazine
"Told in Ford's exquisitely detailed, unhurried prose…Ford is interested here in the ways snap decisions can bend life in unexpected directions... Canada's characters grapple with this... and the answers they come up with define the rest of their lives, along with this quietly thoughtful book." — Entertainment Weekly
"Masterly… in Ford's American tragedy, filled with lost innocence and inevitable violence—a rusting carnival, a rabbit caught in a coyote's jaws—geography feels a lot like fate." — Vogue
"One of the most memorably heartbreaking novels of the year." — Christian Science Monitor
"[Ford's] newest novel Canada, shows an artist in full command of his craft—sparsely elegant and bracingly direct, with a refreshing lack of irony or tricks." — Men's Journal
"Marvelous…Canada is a masterpiece of a story with rich language and dialogue filled with suspense, bleakness, human frailties and flaws, and a little bit of hope seen through the eyes of an adolescent boy whose emotions seem often aligned with the desolate landscape of its setting." — The Oregonian (Portland)
"A must-read. . . . Canada reminds us why Ford is considered one of this country's most distinguished writers." — St. Paul Pioneer Press
"[A] deeply felt and magnificently imagined work…With Canada, Ford has given us his deepest exploration yet of weakness and betrayal set amid a boy's coming of age. It is a memorable novel, suffused with love, sorrow and regret." — Austin American-Statesman
"[A] novel about big truths told by a writer with clear vision…solid, satisfying craftsmanship. This is a Richard Ford novel in the tradition of his earlier work. It also is a coming-of-age story, and a story about the discovery of identity." — Washington Independent Review of Books