My Life in and out of the Rough: The Truth Behind All That Bull**** You Think You Know About Me (Paperback)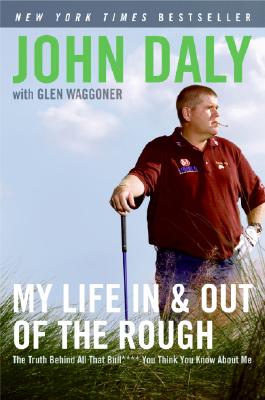 $18.99

Usually Ships in 1-5 Days
Description
---
Ever since his astonishing victory in the 1991 PGA Championship, John Daly has enthralled fans with his big drives, bigger personality, and his "grip it and rip it" approach to golf . . . and to life. Usually seen with a cigarette dangling from his lip, Long John is the unchained, unpredictable, unapologetic bad boy of professional golf.
My Life In and Out of the Rough is the thrillingly—and sometimes shockingly—candid memoir of a larger-than-life athlete battling assorted addictions (alcohol, gambling, chocolate, sex), his weight, and divorce lawyers (having been married four times). Carrying readers off the fairway and into his $1.5-million motor home, Daly takes us on a rollicking ride through his ever-churning world of burgers, booze, casinos, country music, and breathtaking moon shots—and reveals how a down-home Arkansas Everyman rose to the pinnacle of the golf world, escaped from the depths of abject depression, and, ultimately, took control of his life.
Well, sort of . . .
About the Author
---
John Daly is one of the most popular professional golfers in the world today. Celebrated for his towering tee shots, Daly has won the PGA's Driving Distance Crown a record-setting eleven times. He was named the 1990 PGA Tour Rookie of the Year and went on to win the PGA Championship the following year and the British Open in 1995. He is the author of the New York Times bestselling autobiography My Life In and Out of the Rough: The Truth Behind All That Bull**** You Think You Know About Me.