Too Loud, Too Bright, Too Fast, Too Tight: What to Do If You Are Sensory Defensive in an Overstimulating World (Paperback)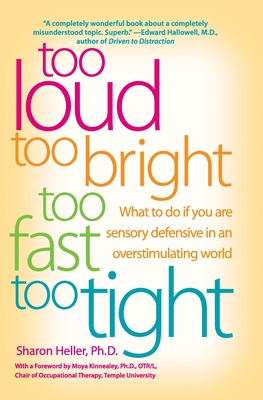 $18.99

Usually Ships in 1-5 Days
Description
---
With empathy, compassion, and practical tools, a developmental psychologist and sufferer of Sensory Defensive Disorder (SD) sheds light on a little known but common affliction in which sufferers react to harmless stimuli as irritating, distracting, or dangerous
We all know what it feels like to be irritated by loud music, accosted by lights that are too bright, or overwhelmed by a world that moves too quickly. But millions of people suffer from Sensory Defensive Disorder (SD), a common affliction in which people react to harmless stimuli not just as a distracting hindrance, but a potentially dangerous threat. Sharon Heller, Ph.D. is not only a trained psychologist, she is sensory defensive herself. Bringing both personal and professional perspectives, Dr. Heller is the ideal person to tell the world about this problem that will only increase as technology and processed environments take over our lives. In addition to heightening public awareness of this prevalent issue, Dr. Heller provides tools and therapies for alleviating and, in some cases, even eliminating defensiveness altogether.
Until now, the treatment for sensory defensiveness has been successfully implemented in Learning Disabled children in whom defensiveness tends to be extreme. However, the disorder has generally been unidentified in adults who think they are either overstimulated, stressed, weird, or crazy. These sensory defensive sufferers live out their lives stressed and unhappy, never knowing why or what they can do about it. Now, with Too Loud, Too Bright, Too Fast, Too Tight, they have a compassionate spokesperson and a solution–oriented book of advice.
About the Author
---
Sharon Heller, Ph.D., is the author of The Vital Touch and teaches courses in psychology. She received her master's degree from the University of Chicago and her doctorate from Loyola University of Chicago. She lives in South Florida.
Praise For…
---
"Starting in infancy, sensory defensiveness can become increasingly debilitating as the child with this often undiagnosed condition grows up. In this remarkable book, Dr. Heller educates, comforts, and guides adults who have struggled for a lifetime with overwhelming sensations from their body and environment -- sensations they could neither understand nor control." — Carol Stock Kranowitz, M.A., author of The Out-of-Sync Child: Recognizing and Coping with Sensory Integration Dysfunction
"Too Loud, Too Bright, Too Fast, Too Tight is a completely wonderful book about a completely misunderstood topic. Dr. Heller writes clearly and often lyrically, as well as humorously, as she brings forth all that anyone needs to know about this very common, very overlooked, very interesting condition that seems to afflict the most fascinating people. A superb book." — Edward Hallowell, M.D., author of The Childhood Roots of Adult Happiness
"Clear…jargon-free…reassuring. Will wonderfully supplement medical treatment for people with SD." — Publishers Weekly
"A fascinating account of how sensation can run amok and cause problems. " — New York Newsday