Blue Angel: A Novel (Paperback)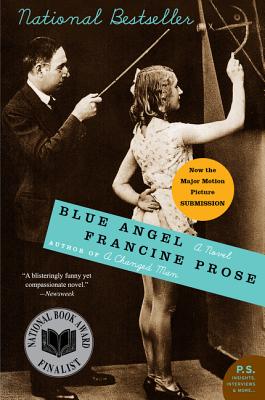 $14.99

Usually Ships in 1-5 Days
Description
---
The National Book Award Finalist from acclaimed New York Times bestselling author Francine Prose—now the major motion picture Submission
 "Screamingly funny … Blue Angel culminates in a sexual harassment hearing that rivals the Salem witch trials." —USA Today
It has been years since Swenson, a professor in a New England creative writing program, has published a novel. It's been even longer since any of his students have shown promise. Enter Angela Argo, a pierced, tattooed student with a rare talent for writing. Angela is just the thing Swenson needs. And, better yet, she wants his help. But, as we all know, the road to hell is paved with good intentions.
Deliciously risqué, Blue Angel is a withering take on today's academic mores and a scathing tale that vividly shows what can happen when academic politics collides with political correctness.
About the Author
---
Francine Prose is the author of twenty-one works of fiction including, the highly acclaimed Mister Monkey; the New York Times bestseller Lovers at the Chameleon Club, Paris 1932; A Changed Man, which won the Dayton Literary Peace Prize; and Blue Angel, which was a finalist for the National Book Award. Her works of nonfiction include the highly praised Anne Frank: The Book, The Life, The Afterlife, and the New York Times bestseller Reading Like a Writer, which has become a classic. The recipient of numerous grants and honors, including a Guggenheim and a Fulbright, a Director's Fellow at the Center for Scholars and Writers at the New York Public Library, Prose is a former president of PEN American Center, and a member of the American Academy of Arts and Letters and the American Academy of Arts and Sciences. She is a Distinguished Writer in Residence at Bard College.
Praise For…
---
"An engaging comedy of manners Prose once again proves herself one of out great cultural satirists."
— Kirkus Reviews (starred review)

"Francine Prose, a literary arsonist with blistering wit, sends up both smug academics and politically correct undergrads in the satirical bonfire Blue Angel."
— Entertainment Weekly

"Her trenchant satire of sexual harassment gives political correctness a much deserved poke in the eye."
— Vanity Fair

"Prose is a pro, and this funny yet devastating novel will rock literary and academic worlds alike."
— Mademoiselle

"Screamingly funny … Blue Angel culminates in a sexual harassment hearing that rivals the Salem witch trials."
— USA Today

"A mesmerizing and hilarious tour de force."
— Us Weekly

"Sheer delight … This is among the most enjoyable books I've read in a long time and, once started … I couldn't stop turning the pages until there were none left."
— Washington Post Book World

"What Prose performs at the end of Blue Angel is as neat a sleight of hand as has been seen in the libraries of university novels written this century."
— Los Angeles Times Book Review

"A blisteringly funny yet compassionate novel … As for the author, she never makes a single wrong move."
— Newsweek

"An elegant satire… pulling off a clever, funny, original send up of contemporary academia isn't easy … but Ms. Prose succeeds."
— Wall Street Journal

"It will be apparent that Blue Angel is the sort of scandalous book that zealots would be well advised to shun. Once you start reading it, you'll be hooked.
— New York Times Book Review