Zamba: The True Story of the Greatest Lion That Ever Lived (Paperback)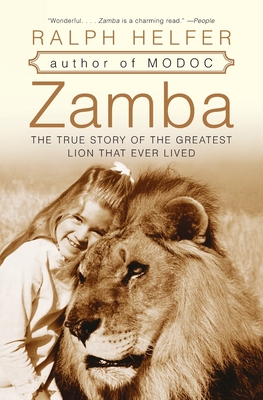 $15.99

Usually Ships in 1-5 Days
Description
---
When Ralph Helfer, now one of Hollywood's top animal behaviorists, first began working, he was shocked by the cruelty that was accepted practice in the field. He firmly believed in "affection training" -- that love, not fear, should be the basis of any animal's development, even when dealing with the most dangerous of creatures. Then Zamba came into his life -- an adorable four-month-old lion cub that went on to prove Helfer's theories resoundingly correct.
Over the next eighteen years, Zamba would thrive and grow, and go on to star in numerous motion pictures and television shows -- all the while developing a deep and powerful bond of love and affection with the man who raised him. By turns astonishing, hilarious, and poignant, Zamba is not only the unforgettable story of the relationship that Helfer would come to consider one of the most important in his life but also that of the amazing career and adventures of the greatest lion in the world.
About the Author
---
Ralph Helfer is a well-known Hollywood animal trainer who was one of the first to use affection and kindness to train wild animals. He is the author of The Beauty of the Beasts, and he lives in Los Angeles and Kenya, where he leads safari tours.
Praise For…
---
"Wonderful, detailed… amusing… Zamba is a charming read." — People
"An incredible story of love between man and lion ... moving…. will touch the heart of any animal lover." — Publishers Weekly
"A warmhearted tale of love between two species." — Booklist
"Extraordinary ... Beautifully expresses a simple philosophy so many have trouble following: respect for all living creatures, given and returned." — Kirkus Reviews
"A fascinating book … humorous and touching." — School Library Journal