Good Luck Life: The Essential Guide to Chinese American Celebrations and Culture (Paperback)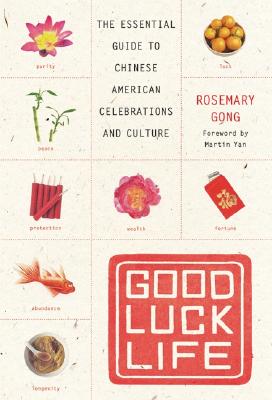 for information about purchasing this book, please contact orders@bookpassage.com
Description
---
Good Luck Life is the first book to explain the meanings of Chinese rituals and to offer advice on when and how to plan for Chinese holidays and special occasions such as Chinese weddings, the Red Egg and Ginger party to welcome a new baby, significant birthdays, and the inevitable funeral. Packed with practical information, Good Luck Life contains an abundance of facts, legends, foods, old-village recipes, and quick planning guides for Chinese New Year, Clear Brightness, Dragon Boat, Mid-Autumn, and many other festivals.
Written with warmth and wit, Good Luck Life is beautifully designed as an easily accessible cultural guide that includes an explanation of the Lunar Calendar, tips on Chinese table etiquette for dining with confidence, and dos and don'ts from wise Auntie Lao, who recounts ancient Chinese beliefs and superstitions. This is your map for celebrating a good luck life.
About the Author
---
Rosemary Gong is a third-generation Chinese American. Born and raised in California, she and her family were the only Asians in their Central Valley town, school, and church. A graduate of San Jose State University's School of Journalism and Mass Communications, she moved to San Francisco to join Saatchi and Saatchi Corporate Communications Group. Chinatown was her choice of residence -- just around the corner from her grandparents. There, she developed an affinity for the places and the customs inherent in her culture. Rosemary shamefully admits her Chinese vocabulary totals around twenty-nine words. Thus, she considers one of her greatest achievements to be ordering a plate of noodles in her native Cantonese.
Praise For…
---
"Good Luck Life is a great resource to Chinese traditions and celebrations, offering explanations of the customs and their symbolism." — Ming Tsai, Food Network chef and author of Simply Ming
"Good Luck Life is a cultural treasure chest - it's a wonderful legacy to pass on to future generations." — Martin Yan
"Finally, a guidebook I can refer to for answers on how and why Chinese Americans celebrate and observe special occasions." — Judy Yung, Professor of American Studies, University of California, Santa Cruz, and author of Unbound Feet: A Social History of Chinese Women in San Francisco
"Charming...a good buy." — Library Journal