The Wilderness Warrior: Theodore Roosevelt and the Crusade for America (Paperback)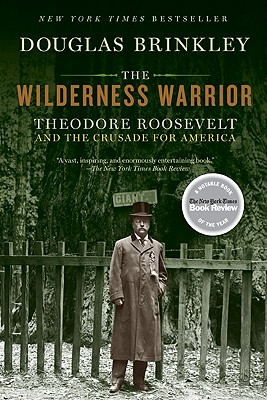 Description
---
From New York Times bestselling historian Douglas Brinkley comes a sweeping historical narrative and eye-opening look at the pioneering environmental policies of President Theodore Roosevelt, avid bird-watcher, naturalist, and the founding father of America's conservation movement.
In this groundbreaking epic biography, Douglas Brinkley draws on never-before-published materials to examine the life and achievements of our "naturalist president." By setting aside more than 230 million acres of wild America for posterity between 1901 and 1909, Theodore Roosevelt made conservation a universal endeavor. This crusade for the American wilderness was perhaps the greatest U.S. presidential initiative between the Civil War and World War I. Roosevelt's most important legacies led to the creation of the U.S. Fish and Wildlife Service and passage of the Antiquities Act in 1906. His executive orders saved such treasures as Devils Tower, the Grand Canyon, and the Petrified Forest.
About the Author
---
Douglas Brinkley is the Katherine Tsanoff Brown Chair in Humanities and Professor of History at Rice University, a CNN Presidential Historian, and a contributing editor at Vanity Fair.  In the world of public history, he serves on boards, at museums, at colleges, and for historical societies. The Chicago Tribune dubbed him "America's New Past Master." The New-York Historical Society has chosen Brinkley as its official U.S. Presidential Historian. His recent book Cronkite won the Sperber Prize, while The Great Deluge: Hurricane Katrina, New Orleans, and the Mississippi Gulf Coast received the Robert F. Kennedy Book Award. He was awarded a Grammy for Presidential Suite and is the recipient of seven honorary doctorates in American studies. His two-volume, annotated Nixon Tapes recently won the Arthur S. Link–Warren F. Kuehl Prize. He is a member of the Century Association, the Council on Foreign Relations, and the James Madison Council of the Library of Congress. He lives in Austin, Texas, with his wife and three children.
 www.douglasbrinkley.com
Praise For…
---
"To understand America, you need to appreciate Teddy Roosevelt. Doug Brinkley brilliantly uses the lens of Roosevelt's love of nature to show why he is so influential, fascinating, and relevant to our own times. This wonderful book is as vibrant as he was."
— Walter Isaacson, author of Einstein

"No president has been a greater champion of our natural world—especially its wildlife—than Theodore Roosevelt. Now that extraordinary force of nature has his own champion in Douglas Brinkley's stirring account of the man who turned our attention to conservation and the many glories of our American landscape."
— Ken Burns, co-author of The War

"What an absolutely perfect match between subject and writer. This is a major contribution to our understanding not only of Roosevelt but of the historic movement to save our wilderness."
— Doris Kearns Goodwin, author of Team of Rivals

"Douglas Brinkley has brought us an important, deeply researched, compellingly readable and inspiring story. Exactly a century after his Presidency, there could not be a better time to revisit and celebrate T.R.'s unfinished environmental legacy."
— Michael Beschloss, author of Presidential Courage