The Burning Tigris: The Armenian Genocide and America's Response (Paperback)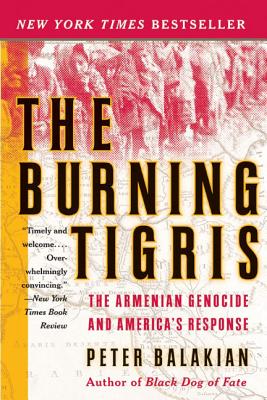 $15.99

Usually Ships in 1-5 Days
Description
---
A History of International Human Rights and Forgotten Heroes
In this national bestseller, the critically acclaimed author Peter Balakian brings us a riveting narrative of the massacres of the Armenians in the 1890s and of the Armenian Genocide in 1915 at the hands of the Ottoman Turks. Using rarely seen archival documents and remarkable first-person accounts, Balakian presents the chilling history of how the Turkish government implemented the first modern genocide behind the cover of World War I. And in the telling, he resurrects an extraordinary lost chapter of American history.
Awarded the Raphael Lemkin Prize for the best scholarly book on genocide by the Institute for Genocide Studies at John Jay College of Criminal Justice/CUNY Graduate Center.
About the Author
---
Peter Balakian is the author of Black Dog of Fate, winner of the PEN/Martha Albrand Prize for Memoir and a New York Times Notable Book, and June-tree: New and Selected Poems 1974–2000. He is the recipient of many awards, including a Guggenheim Fellowship. He holds a Ph.D. in American Civilization from Brown University and teaches at Colgate University, where he is a Donald M. and Constance H. Rebar Professor of the Humanities.
Praise For…
---
"In this important book, Balakian proves adept at presenting both human horror and political tragedy." — Booklist
The terrible fate of the Armenians... is brilliantly described. A great service to the history of the Armenians." — Sir Martin Gilbert, author of The Righteous: the Unsung Heroes of the Holocaust
"An eloquent account of Turkey's long campaign to rid itself of Armenians....Thoroughly convincing." — Kirkus Reviews
"Peter Balakian tells the powerful and largely unknown story of [Armenian Genocide]. This important and compelling book is long overdue." — Deborah E. Lipstadt, Ph.D., Dorot Professor of Modern Jewish and Holocaust Studies Director, Emory University
"The Burning Tigris is an act of acute historical memory, of personal testimony, of prophetic witness - and of high art." — James Carroll, author of Constantine's Sword and Secret Father
"A gripping treatment of the official Turkish mass murder...a masterpiece of moral history...it needs to be widely read." — Paul Fussell, author of The Great War and Modern Memory and Wartime: Understanding and Behavior in the Second World War
"Balakian tells a story long ripe for the telling.... He writes with grace and power." — Jean Bethke Elshtain, Laura Spelman Rockefeller Professor of Social and Political Ethics, The University of Chicago, author of Just War Against Terror: The Burden of American Power in a Violent World
"[A] fascinating and affecting memoir." — New York Times Book Review
"Richly imagined and carefully documented." — The New Yorker
"[An] engrossing and poignant memoir." — San Francisco Chronicle
"A mighty work, a slow burn of muted eloquence, dense with scholarship...compelling." — Forward