The IRS Problem Solver: From Audits to Assessments--How to Solve Your Tax Problems and Keep the IRS Off Your Back Forever (Paperback)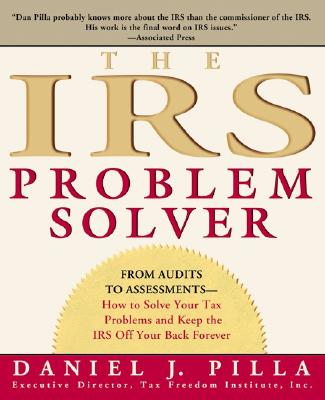 for information about purchasing this book, please contact orders@bookpassage.com
Description
---
Are you burdened with the tax debt of a current or former spouse?
Have you just received an IRS computerized or "correction" notice?
Are you in danger of having your property seized?
Has your tax return been selected for an audit?
Is the IRS knocking on your door?
If you've answered "yes" to any of these questions, you're not alone: more than twenty-five million taxpayers are faced with the terrifying prospect of dealing with audits, assessments, or other IRS problems every year. But with all the books devoted to how to prepare your taxes, there's never been one that explains how to get yourself out of trouble easily, legally, and inexpensively -- until now. With The IRS Problem Solver, veteran tax expert Dan Pilla offers the first comprehensive guide to dealing with the most common IRS problems taxpayers confront, from face-to-face audits to fraud penalties. Pilla's book is an indispensable preventive tool for all who file their own taxes—and a necessity for anyone who's just received a notice that the wolf is at the door.
About the Author
---
Daniel J. Pilla has spent more than two decades as a tax litigation consultant. Pilla has played a key role in creating new taxpayers' rights and helping to change the face of tax-law enforcement in America. His previous books, including How to Get Tax Amnesty, have sold more than half a million copies. Pilla lives in Minnesota with his wife and four children.