Si le das una galletita a un ratón: If You Give a Mouse a Cookie (Spanish edition) (If You Give...) (Hardcover)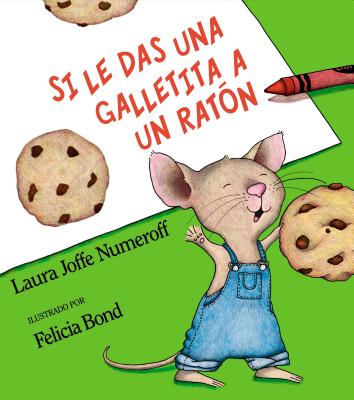 Description
---
This high-quality Spanish-language book can be enjoyed by fluent Spanish speakers as well as those learning the language, whether at home or in a classroom.
Uno de los libros infantiles más queridos de todos los tiempos.
Si un ratoncito hambriento aparece a la puerta de tu casa, quizás quieras darle una galleta. Y si le das una galleta, te pedirá un vaso de leche, y querrá mirarse en el espejo para asegurarse que no tiene un bigote de leche y luego te pedirá un par de tijeras para hacer un recorte de bigote....
Este libro es una presenta al ratóncito, la estrella de la serie Si le das... y es uno de los libros favoritos entre los niños. Su texto relajado y rítmico y la historia que nunca termina, lo hacen perfecto para pequeños lectores que disfrutan de una divertida lectura.
About the Author
---
Laura Numeroff is the author of many books for young readers in addition to the If You Give... series, including The Chicken Sisters and Laura Numeroff's 10-Step Guide to Living with Your Monster. She lives in Los Angeles, CA where she loves to ride horses, read biographies, and play with her pets. A portion of her royalties will be donated to First Book, a national nonprofit organization that promotes children's literacy.
Felicia Bond is both writer and illustrator of Tumble Bumble, The Day It Rained Hearts, the Poinsettia books, and many others. She painted the art for numerous other award-winning books, including those in the much loved If You Give . . . series and the contemporary classic Big Red Barn. She lived for many years in New York and currently lives in Santa Fe, New Mexico.