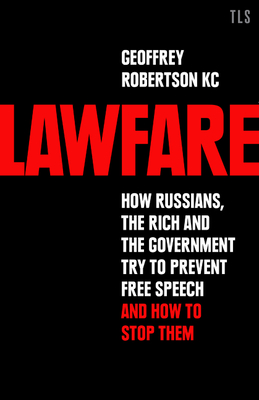 $15.99

Usually Ships in 1-5 Days
Description
---
How Russians, the Rich and the Government Try to Prevent Free Speech and How to Stop Them.
'ESSENTIAL' Amal Clooney
'AUTHORITATIVE' Sir Geoffrey Bindman KC
'IMPORTANT 'Baroness Helena Kennedy KC
'COULD HARDLY BE MORE TIMELY' Alan Rusbridger
The British tradition of "free speech" is a myth. From the middle ages to the present, the law of defamation has worked to cover up misbehaviour by the rich and powerful, whose legal mercenaries intimidate investigative journalists.
Now a new terror has been added through misguided judicial development of the laws of privacy, breach of confidence and data protection, to suppress the reporting of truths of public importance to tell.
Drawing upon the author's unparalleled experience of defending journalists and editors in English and Commonwealth courtrooms over the past half-century, the book describes the hidden world of lawfare, in which authors struggle against unfair rules that put them always on the defensive and against a costs burden that runs to millions. Law schools do not teach freedom of speech and judges in the Supreme Court do not understand it.
This book identifies and advocates the reforms that will be necessary before Britain can truly boast that it is a land of free speech, rather than a place where free speech can come very expensive.
About the Author
---
Geoffrey Robertson KC is founder and head of Doughty Street Chambers, Europe's largest human rights practice. He has been counsel in many celebrated trials, representing the editors of the Guardian and the Wall Street Journal among others to the likes of Salman Rushdie and Julian Assange. He is author, with Justice Andrew Nicol, of the textbook Media Law. His autobiography Rather His Own Man was published in 2018. He received the New York Bar Association award for distinction in International Law, and the Order of Australia, for his defence of free speech around the world. He is a Master of the Middle Temple and a trustee of the Bureau of Investigative Journalism. In 2022 he was sanctioned by the Kremlin.