Truth Be Told (Paperback)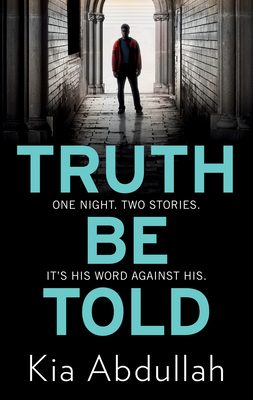 Description
---
Shortlisted for The Diverse Book Awards 2021
'Bold and brave, shocking and heartfelt . . . A very special book from a very special author' Chris Whitaker, bestselling author of Waterstones Thriller of the Month We Begin at the End
'Abdullah's legal thrillers make John Grisham seem like a maiden aunt' Sunday Times Crime Club
'Vividly examines some of the issues that shape (and deform) society . . . A gritty, extremely hard-hitting drama' Adele Parks, Platinum magazine
'A masterpiece and] a triumph . . . When you get to the final chapters, buckle up . . . She writes with such intelligence, research and compassion' Daily Record
* * * * *
ARE YOU READY TO START THIS CONVERSATION?
Kamran Hadid feels invincible. He attends Hampton school, an elite all-boys boarding school in London, he comes from a wealthy family, and he has a place at Oxford next year. The world is at his feet. And then a night of revelry leads to a drunken encounter and he must ask himself a horrific question.
With the help of assault counsellor, Zara Kaleel, Kamran reports the incident in the hopes that will be the end of it. But it's only the beginning...
Powerful, explosive and important, Truth Be Told is a contemporary courtroom drama that vividly captures today's society. You will not stop thinking about it for a long time to come.
* * * * *
More praise for Truth Be Told:
'The court scenes are pacy and atmospheric, and there is more than one unexpected twist' i
'Brave, compelling and absolutely riveting' A A Dhand, bestselling author of Streets of Darkness
'Tense, harrowing and brilliantly written. A powerful story' Khurrum Rahman, author of East of Hounslow
'An excellent and intelligent novel' The Literary Review
'A deeply profound and thought-provoking read' Heat
About the Author
---
Kia Abdullah is a novelist and travel writer from London. She has written for The New York Times, the Guardian and The Telegraph, and is the author of Take It Back, named one of the best thrillers of the year by the Guardian and The Telegraph.Kia frequently contributes to the BBC commenting on a variety of issues affecting the British-Asian community and is the founder of Asian Booklist, a site that helps readers discover new books by British-Asian authors. Kia also runs Atlas & Boots, a travel blog read by 250,000 people a month. For more information about Kia and her writing, visit her website at kiaabdullah.com, or follow her at @KiaAbdullah on Instagram and Twitter.