Bouncer (Chums) (Paperback)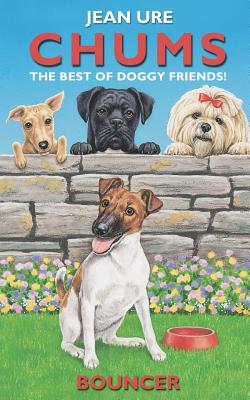 $5.99

Usually Ships in 1-5 Days
Description
---
Four stray dogs, all with a story to tell of their rescue and how they came to live at Munchy Flats Cottage, with their people Flossie and Joe.
The Third Chums title in which Bouncer comes to live at Munchy Flats with Buster and Bella. Bouncer is a very lively little Jack Russell terrier. He's a cheeky young whipper snapper and Buster doesn't like it when he starts digging up his garden Bouncer is just a nuisance to the other dogs and Buster decides he needs taking down a peg or two. However, he doesn't need to because a farmer - with a gun - does it for him. Bouncer has the shock of his young life when the gun goes off but he is still too lively for his owner. Bouncer turns up again at Munchy Flats Cottage with a label round his neck 'My name is Bouncer and I have been a naughty boy. But I am not a bad boy at heart. Please give me a second chance.' So Bouncer joins Bella and Buster at Munchy Flats Cottage - where he is a good boy, at heart
About the Author
---
Jean Ure has written over sixty books for children and young people. She is a vegan and commited to animal rights, hence her passion for writing about animals - dogs in particular. She lives with her husband, Leonard, and seven stray dogs and cats in a 300-year-old cottage in Croydon.