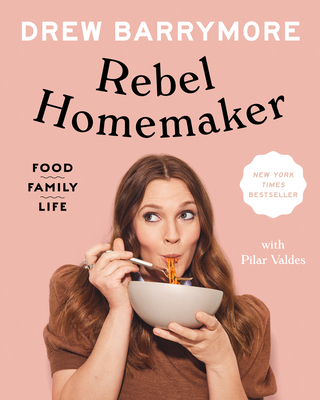 Drew Barrymore and Pilar Valdes
Rebel Homemaker
in conversation with Jake Cohen
Wed., Nov. 3, 2021 • 4:00pm PT • Live • Ticketed Event • Online
Drew Barrymore has always done things in her own unique way—including how she cooks, lives, and finds happiness at home. In her first lifestyle and cookbook, Drew shares recipes, stories from her life, and personal photos that show how she lives a healthy, delicious, and joyful life through her own rebellious brand of homemaking.
In her first lifestyle book, Drew Barrymore will take you inside her kitchen and her life, sharing thirty-six amazing recipes, from Soft-Scrambled Yuzu Kosho Eggs to Brie and Apple Grilled Cheese to Harissa Spaghetti, which she developed along with chef Pilar Valdes, a personal friend and a regular guest on Drew's CBS talk show.

The book will also feature beautiful photos, many taken by Drew herself, as well as personal essays and stories about how Drew found her way in the kitchen, learned to cook, planted a garden and raised her first chickens. And, of course, how she learned to slow down, turn to nature as a teacher, always remembering to be humble and present while celebrating the joys of her family and friends around the table, both during special occasions as well as amidst the beautiful chaos of everyday life!
Drew Barrymore is a mother, actor, producer, entrepreneur and New York Times bestselling author. She captured our hearts when she starred in E.T. at the age of six and has gone on to win critical acclaim for her work in movies such as The Wedding Singer, Ever After, Charlie's Angels, and Grey Gardens, to name a few. She is the host of the Drew Barrymore Show, as well as the founder of Flower Films, Flower Beauty, the kitchen brand Beautiful.
Pilar Valdes was born and raised in the sticky tropical hearth of Manila, Philippines, amidst the spin of her family's lazy susan. She graduated with a BA from Sarah Lawrence College and spent the early years of her professional life working with young people through popular education workshops and video storytelling. In 2010, longing for both the proverbial stove of her childhood and relationships forged over shared meals, she switched careers and co-founded Kickshaw Cookery, a bespoke catering company placing a premium on carefully-sourced ingredients and thoughtfully-crafted menus. She currently works as a private chef and is a regular culinary contributor on the Drew Barrymore Show. She has always been a good eater.
Please note: Books may be shipped or picked up in either our Corte Madera or San Francisco Ferry Building store. Shipping is not included in the ticket price.
Drew Barrymore and Pilar Valdes photo by Graydon Herriott