Friday, August 11, 2017 - 8:00pm
2017 Travel Writers & Photographers Conference Event
Free for conference participants; $10 for general public (cost can be applied to purchase of featured book)
Slavery didn't end with the cessation of trans-Atlantic trade to Americas in the 19th century. Modern day slavery is illegal everywhere yet exists almost everywhere, often in plain view. According to the Global Slavery Index, nearly forty-six million people are enslaved today. Lisa Kristine's new photographic essay Bound to Freedom presents this crime against humanity as it exists today - as child labor, sex trafficking, in gold mining, in stone quarrying, and the manufacturing of textiles. In compelling images, Lisa Kristine brings us face to face with these people, toiling in inhuman circumstances, and shows us the celebration of freedom of those liberated. Bound to Freedom is a call to action. In order to create change in a world that allows such crimes to exist, we first need to see and understand how it exists. The book concludes with resources and steps we can take to help free the enslaved. It is a statement of hope and commitment to help free the world of this injustice
Lisa Kristine is a San Francisco based fine-arts and humanitarian photographer specializing in indigenous peoples worldwide. Through her work, Lisa wishes to encourage a dialogue about the beauty, diversity, and hardship of our inter-locking world. The more meaning born in the images, the deeper that dialogue may be. Lisa Kristine aims to enhance her viewer's awareness and engage them in a visual journey that is also a questioning of our existence. She wants to welcome them into the exploration of our mysterious existence with a spirit of importance, astonishment, and hope. For more than 25 years, Lisa Kristine has explored the globe, looking for the peoples, cultures, and places that time forgot, creating indelible and unforgettable images. She brings the distant, ancient, and rare into clear focus. Best known for her evocative and saturated use of color, her fine-art prints are among the most sought after and collected in her field. Lisa's work has been auctioned by Christie's New York for the United Nations with Kofi Annan, and she works with several foundations and NGO's to promote awareness of cultural, social, and humanitarian goals.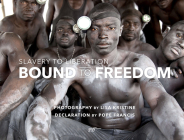 $50.00
ISBN: 9781935935087
Availability: Usually Ships in 1-5 Days
Published: Goff Books - April 18th, 2017
Slavery didn't end with the cessation of trans-Atlantic trade to Americas in the 19th century. Modern day slavery is illegal everywhere yet exists almost everywhere, often in plain view. According to the Global Slavery Index, nearly forty-six million people are enslaved today.
---