Sunday, October 15, 2017 - 1:00pm
Draw the Line is a powerful and poignant picture book about forgiveness from Kathryn Otoshi, author of the bestselling book One.
When two boys draw their own lines and realize they can connect their lines together—magic happens! But a misstep causes their lines to get crossed.
Push, pull, tug, yank!
Soon their line unravels into an angry tug-of-war.
With a growing rift between then, will the boys ever find a way to come together again?
Award-winning author/illustrator Kathryn Otoshi uses B&W illustrations with thoughtful splashes of color to create a powerful, multi-layered statement about friendship, boundaries, and healing after conflict.
Kathryn Otoshi is an award-winning author-illustrator, best known for her character-building number/color book series: One, Zero, and Two. She is also the co-author of Beautiful Hands, a book about possibilities and reaching your dreams. She travels across the country to encourage children to develop strong character assets and to help teachers find creative methods to engage and connect with their students through the power of reading, art, and literature. She lives in San Francisco.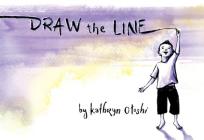 $17.99
ISBN: 9781626725638
Availability: Usually Ships in 1-5 Days
Published: Roaring Brook Press - October 10th, 2017
---