Saturday, October 14, 2017 - 5:00pm
In this fascinating, fun take on nonfiction, uniquely American in its frank tone and honest look at the literal foundation of our country, acclaimed author Dave Eggers and debut illustrator Shawn Harris investigate a seemingly small trait of America's most emblematic statue, her raised right foot.
What they find is about more than history, more than art. What they find in the Statue of Liberty's right foot is the powerful message of acceptance that is essential to the story of America.
Originally scheduled for publication in 2018, the creators and Chronicle Books were inspired by events in the United States at the beginning of 2017 to bring Her Right Foot to young readers as soon as possible. The need to offer welcome to new Americans is needed now more than ever.
Dave Eggers is the author of many books, including This Bridge Will Not Be Gray, The Circle, and A Hologram for the King. He is the cofounder of: Voice of Witness, an oral-history series focused on human-rights crises; 826 National, a network of writing and tutoring centers; and ScholarMatch, which connects donors and under-resourced students to make college possible. He lives in the San Francisco Bay Area.
Shawn Harris is an artist and musician who lives and works in Morongo Valley, California. This is his first book.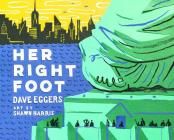 $19.99
ISBN: 9781452162812
Availability: Usually Ships in 1-5 Days
Published: Chronicle Books - September 19th, 2017
Five Starred Reviews

"Eggers's crucial and timely re-examination makes Liberty an active participant in a debate that is more contentious than ever."--Publishers Weekly, starred review "I want to hold this book in one hand and a torch in the other and stand on an island someplace so everyone can see." --Lemony Snicket
---