Saturday, June 15, 2013 - 1:00pm
Octopus loves living on the busy reef under the sea. From her cozy cave, she can see clown fish, and sea turtles, and little butterflies swimming by. She especially loves watching the seahorses having fun, wiggling and twirling. Sometimes she will play with them, but occasionally Octopus just wants to be alone, somewhere quiet, and not so busy. So one day, she swims far, far beyond the reef and finds another cozy cave, only here she is perfectly, wonderfully alone. It is exactly what she wanted . . . until she's ready to go back home to be with her friends.As she did in Little Owl's Night, Divya Srinivasan shows children a wonderful part of the natural world in a very warm-hearted way with Octopus Alone ($16.99).

Divya Srinivasan is an illustrator and animator living in Austin, Texas. Her illustrations have appeared in New Yorker magazine, and she has done work for This American Life, They Might Be Giants, Sundance Channel, Sufjan Stevens, and Weird Al Yankovic, among others. Divya was also an animator on the film Waking Life. She is the author-illustrator of Little Owl's Night. More of her work can be seen at www.pupae.com.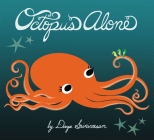 $16.99
ISBN: 9780670785155
Availability: Usually Ships in 1-5 Days
Published: Viking Books for Young Readers - May 16th, 2013
Octopus loves living on the busy reefunder the sea.
---