Thursday, April 23, 2015 - 6:00pm
Championship Blood captures the bigness and boldness of the San Francisco Giants' historic run to a World Series victory in 2014, their third title in five years. The players are emblazoned in fans' minds by now, and acclaimed photographer Brad Mangin's pictures document the rhythm of their season, in moments both big and small, combining traditional photography shot with digital SLRs and Instagrams shot on an iPhone. Brian Murphy (of KNBR's Murph and Mac) writes dynamic profiles of a dozen players and manager Bruce Bochy's recollections are memorialized in the foreword. Coach Tim Flannery's thoughts and feelings come through in his afterword. No true Giants fan can be without it!
Brian Murphy, half of the popular early morning "Murph and Mac" show on KNBR, has had a successful career in broadcasting, most noticeably as The San Francisco Chronicle's golf writer, following the very best in the PGA. As an occasional guest of the "Razor and Mr. T Show," he gained incredible popularity.
Brad Mangin is a freelance sports photographer based in the San Francisco Bay Area where he regularly shoots assignments for Sports Illustrated and Major League Baseball Photos.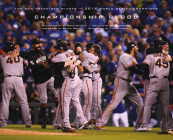 $49.95
ISBN: 9781937359799
Availability: Usually Ships in 1-5 Days
Published: Cameron & Company - April 21st, 2015
The San Francisco Giants won their third World Series in five years in 2014, and Championship Blood: The 2014 World Series Champion San Francisco Giants captures the season like no other book does. This large-format, jacketed, full-color photo book features the dynamic photographs of legendary Sports Illustrated photographer Brad Mangin.
---