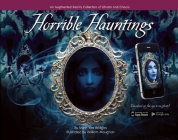 $21.95
Usually Ships in 1-5 Days
Description
---
This exciting new book brings to life--quite literally--ten famous hauntings from the annals of history. Using interactive augmented reality to enhance the images on the pages, readers are able to see and interact with 3-D ghosts, which appear to come alive and can be manipulated by the viewer.
Luscious illustrations of famous historical hauntings introduce readers to some of the most notorious and chilling ghosts throughout the ages. The Headless Horseman, the Flying Dutchman, Bloody Mary, the Amherst Poltergeist, and the Princes in the Tower are some of the eerie apparitions that inhabit this book in a totally new way as readers interact with the illustrations on the pages.
About the Author
---
Shirin Yim Bridges is an award-winning author and the founder of Goosebottom Books. She lives in Foster City, California. Visit her website at www.goosebottombooks.com.