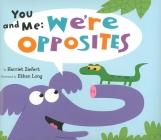 $12.99
Usually Ships in 1-5 Days
Description
---
At this zoo: the toucan tells the anteater which one of them is up and which is down. The flamingo thinks she's nice . . . and that the gorilla is grouchy. And the giraffe peers over the fence to let the penguins know that he's tall and they're short. Sly humor and zany visual make an important point about differences.
About the Author
---
Harriet Ziefert draws on a true story told to her by Santiago Cohen for the text of this Christmas tale. This is her first picture book collaboration with him, though they know each other from their many years in neighboring New Jersey towns.

Ethan Long is a popular children's book author and illustrator whose titles include, Manana Iguana by Ann Whitford Paul, The Riot Brothers series by Mary Amato, and his own creations, Stop Kissing Me! and the popular Tickle the Duck!
The pilot for his animated television series, Farm Force, won the Nextoons: 2005 Nicktoons Film Festival Viewer's Choice Award and is currently in development with Porchlight Entertainment. His animated short series ZeFronk, a cooking show starring a wiener dog with amazing cooking skills, premiered on Playhouse Disney in the fall of 2008.