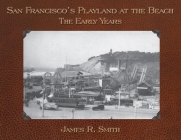 $24.95
Usually Ships in 1-5 Days
Description
---
Presenting many rare photographs of Playland at the Beach and the surrounding neighborhood--including previously unpublished photographs from the private archive of ride designer Laurence Hollings--this collection contains a comprehensive photographic record of the enthralling amusement park from its construction in 1920 through its glorious heyday in the 1930s and 1940s. Each of Playland's famous rides receives its own chapter--including the Hippodrome Merry-Go-Round, the Merry Mix-Up, and Rocket Speedway--with photographs showing both how the rides were built and how they looked in their prime. Painstakingly researched, this book also includes chapters on the pioneering park's attractions, arcade amusements, restaurants, and nightclubs, along with incidental photographs depicting the clothes, cars, people, and customs of the era. Describing the fun sights, sounds, and flavors, this little-known history gives readers an enchanting vision of a glamorous and care-free time.
About the Author
---
James R. Smith is a sixth-generation Californian and a fourth-generation native of San Francisco. He is an experienced genealogical and historical researcher with published credit in ""Almost Home,"" ""Ransom's Mark,"" and ""When All Roads Led to Tombstone."" He is the author of ""San Francisco's Lost Landmarks.""
Praise For…
---
"Playland was an integral part of growing up San Franciscan . . . James Smith's book is an essential document in restoring and preserving the memory of this once vital institution."  Bill Yenne, author, San Francisco Then and Now and Images of America: San Francisco's Noe Valley
"The most comprehensive and factually correct . . . story of San Francisco's premier amusement destination."  Simon Baynham, www.RollerCoasterMediaLibrary.com
"A must read for all amusement park aficionados as well as those who remember the park, and the wealth of photographs should significantly appeal to anyone with a passing interest."  Jim Abbate, National Amusement Park Historical Association
"A vivid portrait of Playland ... a treasured book for anyone who loves San Francisco and anybody who loves roller coasters. Smith brings history alive in this wonderful book."
San Francisco Book Review
(March 18, 2011)
"An ample history of the beloved place . . . a richly annotated pictorial essay. Kudos to Smith for unearthing the photos, conducting the research, and providing the refuge."  About.com Theme Parks Guide
"Some 350 terrific vintage photos of this first-generation amusement park, one of many sprouting across late 19th-century."  American History magazine
"Smith has reclaimed a lost jewel of San Francisco history, and this book is a must read for anyone interested in the city's past . . . a wonderful holiday gift."  BeyondChron.org
"I opened [this book] and was instantly mesmerized . . . . The mass of photographs offers a glimpse into the amusement industry that is seldom seen. A great addition to anyone's collection." Merry-Go-Roundup (Summer 2010)