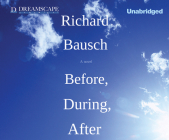 $59.99
Usually Ships in 1-5 Days
Description
---
When Natasha, a talented young artist working as a congressional aide, meets Michael Faulk, an Episcopalian priest struggling with his faith, the stars seem to align. Within months they are engaged. Shortly before their wedding, while Natasha is vacationing in Jamaica and Faulk is in New York attending the wedding of a family friend, the terrorist attacks of September 11 shatter the tranquility of the nation's summer. Convinced that Faulk is dead, Natasha makes an error in judgment that leads to a private trauma. A few days later, she and Faulk are reunited, but the horror of that day and Natasha's inability to speak of it inexorably divide their relationship. They move to Memphis and begin their new life together, but their marriage quickly descends into repression, anxiety, and suspicion.
About the Author
---
Richard Bausch is the author of twelve novels, including In the Night Season, Hello to the Cannibals, and Before, During, After. He has also written eight collections of short stories, among them a Modern Library edition of selected stories, The Stories of Richard Bausch, and most recently, Something is Out There. In 2012, he won the prestigious Rea Award for the Short Story. Bausch teaches creative writing at Chapman University.

Neil Shah is an Audie Award nominated narrator and "AudioFile" Earphones Award winner who has recorded over twenty audiobooks. A classically trained actor with an MFA from the Old Globe/University of San Diego program, Neil has appeared off-Broadway and on regional stages, as well as in film and television.