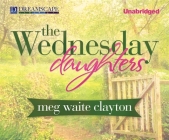 $29.99
Usually Ships in 1-5 Days
Description
---
Hope Tantry arrives at cottage in England's pastoral Lake District where her mother, Ally, spent the last years of her life. Ally - one of a group of women who called themselves the Wednesday Sisters - had used the cottage while she worked on her unpublished biography of Beatrix Potter. Traveling with Hope are friends Anna Page and Julie, first introduced in The Wednesday Sisters, now grown women grappling with issues of a different era. Tucked away in a hidden drawer, Hope finds a stack of Ally's notebooks, written in a mysterious code. As she, Julie, and Anna Page try to decipher Ally's writings, they are forced to confront their own struggles: Hope's doubts her marriage, Julie's grief over her twin sister, Anna Page's fear of commitment.
About the Author
---
Meg Waite Clayton lived for several years on a horse farm in northern Maryland. She now lives in Palo Alto and Santa Barbara with her husband and two young sons. She is a University of Michigan Law School graduate, and her stories have appeared in "The Virginia Quarterly Review, The Literary Review," and elsewhere. "The Language of Light," a finalist for the 2002 Bellwether Prize, is her first novel.


Lesa Lockford is a professor in the Department of Theatre and Film at Bowling Green State University. She teaches courses in voice for the actor, dialects, acting, and performance studies. She is also a writer and performer. Before becoming a teacher, she was a professional actor in Great Britain where she appeared in a variety of roles in television, film, and on the stage. She trained at the Royal Academy of Dramatic Art in London.