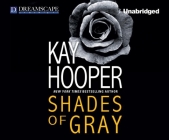 $59.99
Usually Ships in 1-5 Days
Description
---
Ruthless, charismatic, and devastatingly handsome, Andres Sereno rules the small South American island of Kadeira with an iron first - and he has abducted the irresistible Sara Marsh to keep her out of harm's way. Of course, Andres has ulterior motives: He is determined to convince Sara that she cannot live without him. Blindsided by a sudden storm with no safe harbor in sight, Sara has no choice but to embrace the fierce warrior who holds her captive. Though Andres tries to shield her from his violent side, Sara knows that she's tempting fate. Before risking everything, Sara must walk through fire and discover the strength within herself. Only then can she surrender to the primitive force of their desire.
About the Author
---
Kay Hooper, who has more than thirteen million copies of her books in print worldwide, has won numerous awards and high praise for her novels. She lives in North Carolina, where she is currently working on her next novel.

READER BIO

Tanya Eby has a B.A. in English Language & Literature from Grand Valley State University and an M.F.A. in Creative Writing from the University of Southern Maine. Tanya has had a series of jobs: clerk for one day at Victoria's Secret, assistant at Carnegie Hall for nine months, voiceover performer for ten years and writer for as long as she can remember. She has two quirky children and lives in Grand Rapids, Michigan.