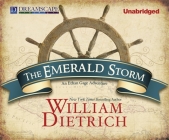 $59.99
Usually Ships in 1-5 Days
Description
---
The year is 1803. Swashbuckling, ribald, and irreverent hero Ethan Gage has outsmarted wily enemies and survived dangerous challenges across the globe. Now the rakish hero finds himself in the Caribbean with his wife, Astiza, on a desperate hunt to secure the lost treasure of Montezuma - a legendary hoard rumored to have been hidden from Cortes's plundering Spanish conquistadors. Hot on his heels are British agents who want the gold to finance a black slave revolt in Saint-Domingue, robbing hostile France of its richest colony. The French, too, seek the treasure for the secrets it contains, the key to an incredible new means of invasion that can ensure Britain's defeat - on its own land.

About the Author
---
William Dietrich is the author of eleven novels, including four previous Ethan Gage titles - Napoleon's Pyramids, The Rosetta Key, The Dakota Cipher, and The Barbary Pirates. Dietrich is also a Pulitzer Prize-winning journalist, historian, and naturalist. A winner of the PNBA Award for Nonfiction, he lives in Washington.

READER BIO

John Pruden started voice work as a Master of Ceremonies while stationed in the military. He has also done production and commercials for radio stations, done voiceovers for commercials, PSAs, Indie films, and documentaries, character acting and voices for video games and radio dramas, as well as narrating corporate and online training videos, and audiobooks.