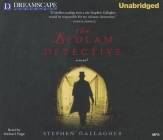 $29.99
Usually Ships in 1-5 Days
Description
---
Sebastian Becker, a former Pinkerton man, lives in England and investigates wealthy eccentrics who may be too insane to care for their own affairs. He is asked to investigate rich landowner Sir Owain, but arrives to discover two young girls have been murdered, and it is not the first time children have come to harm in this small town. Owain's sanity is in question after a disastrous adventure that killed his family and colleagues, and Becker suspects him of the killings. A smart young suffragette and the wild daughter of a horse trainer had a frightening childhood experience that may hold some of the answers Becker seeks, but only if Becker can convince them to trust him in time.
About the Author
---
I am the CEO of a scientific software company, Dotmatics (www.dotmatics.com). I decided to write my first book and got 2 of my children to illustrate it. We spent several weeks gathering all the paintings together and collating them into the picture book (Bibble Bob). The book is essentially a story I made up for my kids when they were younger when I was trying to get them to sleep. All profit from the book will go to charity.

Michael Page has been recording audiobooks since 1984 and has over two hundred titles to his credit. He has won several "AudioFile" Earphones Awards, including for "The War That Killed Achilles" by Caroline Alexander and "The Lies of Locke Lamora" by Scott Lynch.