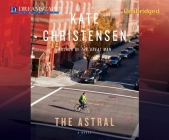 $39.99
Usually Ships in 1-5 Days
Description
---
The Astral is a huge rose-colored old pile of an apartment building in the gentrifying neighborhood of Greenpoint, Brooklyn. For decades it was the happy home (or so he thought) of poet Harry Quirk and his wife, Luz, a nurse, and of their two children: Karina, now a fervent Freegan, and Hector, now in the clutches of a cultish Christian community. But Luz has found (and destroyed) some poems of Harry's that ignite her long-simmering suspicions of infidelity, and he's been summarily kicked out. He now has to reckon with the consequences of his literary, marital, financial, and parental failures, (and perhaps others) and find his way forward - and back into Luz's good graces.
About the Author
---
KATE CHRISTENSEN is the author of the novels "In the Drink," "Jeremy Thrane, "and "The Epicure's Lament," Her essays and articles have appeared in various publications, including "Salon," "Mademoiselle, "the "Hartford Courant, Elle, "and the bestselling anthology "The Bitch in the House," She lives in Brooklyn with her husband.

Donald Corren is a stage, television, and voice actor whose work has been featured on and off Broadway, in regional theaters, behind animated characters, and on television for the past three decades. Trained in the theater division at Juilliard, he is also a writer whose credits include the original Martha Stewart Living television series and the medals ceremonies of the 2002 Winter Olympics in Salt Lake City, Utah.
Praise For…
---
On the best of 2011 list. "A satisfying redoing of a man undone." - Booklist
Starred Review. "...unremittingly wonderful…Christensen takes a singular, genuine story and blows it up into a smart inquiry into the nature of love and the commitments we make..." - Publishers Weekly
"Christensen succeeds impressively in inhabiting Harry's point of view. Donald Corran brings Christensen's large cast of characters, of which Brooklyn itself is one, to vivid, eccentric life." - AudioFile Magazine
"A masterpiece of comedy and angst." - Kirkus Reviews
"...sharp, perceptive...provoking and at times profoundly moving...succeeds in its fond descriptions of a neighborhood virtually unknown outside of New York." - The Associated Press
"Kate Christensen's insights into the psyche of a middle-aged banished husband are astonishing...she has surpassed herself as a writer...a middle-aged male perspective that feel as true as anything written by Philip Roth or John Updike." - New York Journal of Books
"She's a spectacular author who's only beginning to get the attention she so richly deserves...Her style is unique in that her work is more based on fascinating and real - maybe too real - characters rather than upon on the same three or four basic plots we've seen a million times...Christensen is amazing at capturing male voices and desires...I can't wait to see how Christensen's work develops over the coming decades. She has the makings of a major American author. Her storytelling derives organically from a firm grasp of characterization and how people work, flaws and all. The Astral, artfully composed and emotionally tender, is evidence of true literary genius." - Miami Herald
"***** Editor's Pick." - eMusic
"...lovely, hilarious...From the precision with which she dissects her characters' foibles to the Brooklyn landscapes she brings to vivid life, Christensen's meditation on marriage is viewed through a poet's eye, and tempered at times with a satirist's soul." - Barnes and Noble Review
"Kate Christensen is a gifted novelist who knows how to deliver the goods when it comes to ruefully funny, bittersweet character sketches." - Christian Science Monitor, "11 Excellent Novels for Summer"
"Christensen is a forceful writer whose talent is all over the page. Her prose is visceral and poetic..." - The Salt Lake Tribune
"...a wonderful investigation of the pitfalls that arise in even the longest of marriages...Christensen's prose is clean and her characters enthralling." - The Denver Post
"The Astral is Kate Christensen at the pinnacle of her craft...an unashamedly bittersweet comedy of manners..." - Anniston Star
"Readers will be sucked into extremely realistic familial dramas while Christensen perfectly captures her Brooklyn backdrop…With acute perception and witty humor, this bittersweet novel moves along at a tremendous pace, entertaining until its climactic final scene." - BookPage
"Christensen writes incredibly beautiful narrative...Her dialogue rings realistic...masterful characterization...a stellar read. I highly recommend it for anyone who enjoys strong character-driven novels." - Lit Stack
"A genial, smart, gently satirical tale of the joys and woes of bougie New York life." - The Millions
"...the best Brooklyn novel...Christensen's best take ever on the human heart...fascinating." - Three Guys One Book