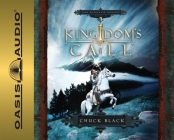 Description
---
For generations the Noble Knights have been in service to the King.  Following a strict code of conduct, they preserve the peace in Chessington, the King's chosen city, and rule its citizenry.  Sir Gavin is a young and promising Noble Knight, devoted to King and Code.  Then a peasant disrupts the tranquility of Chessington, brazenly challenging the Code while claiming to be the son of the King a Prince.  When it is learned that he is actively training a force of men in defiance of the law, the stranger is arrested and executed.  But his Followers continue to defy the Code, and Sir Gavin swears to destroy this threat to Chessington until he himself is grievously wounded in battle.  As he faces his own death, Gavin is saved by someone who will transform his heart and change his life.  Journey to Arrethtrae in this multi-voice dramatization, where the King and His Son implement a bold plan to save their kingdom; where courage, faith, and loyalty stand tall in the face of opposition; where good will not bow to evil and one brave man stands against the Dark Knight.
About the Author
---
Chuck Black spent eight years in the Air Force traveling the world as a communications engineer and an F-16 fighter pilot. He has invented or coinvented eleven patented construction products now being sold internationally. He earned his BS in electrical and electronic engineering from North Dakota State University and today, with his wife, Andrea, is in his thirteenth year homeschooling their six children. The Blacks take their family music ministry on the road, singing Christian gospel, contemporary, and traditional songs. Chuck is enjoying his eighth year teaching adult Sunday school classes at First Baptist Church in Williston, North Dakota.



Dawn Marshall is an internationally known spirit rescue medium and paranormal investigator. Born in San Diego, California, Dawn now makes her home in Northern Virginia with her husband, Darrell and two children. While, only starting this work "officially" in 2005, the spirit world has been a part of Dawn's daily life since birth. Her ability to communicate with the other side is something that she didn't choose but knows for certain is a blessing. It has allowed her to help families as well as spirits gain peace and closure, which to Dawn is what it's all about. Dawn teaches classes on spirit rescue, psychic ability and paranormal investigation throughout the nation. She can be contacted via her website www.archangelazrael.com.