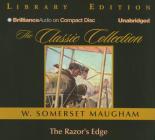 Description
---
A compelling novel of self-discovery and the search for meaning from the author of "The Painted Veil"
The Great War changed everything and everyone, and Larry Darrell is no exception. Though his physical wounds from the war heal, his spirit is changed almost beyond recognition. He leaves his betrothed, the beautiful and devoted Isabel; studies philosophy and religion in Paris; lives as a monk, and witnesses the exotic hardships of Spanish life. All of life that he can find from an Indian Ashrama to labor in a coal mine becomes Larry's spiritual experiment as he spurns the comfort and privilege of the Roaring 20s.
This novel is part of Brilliance Audio's extensive Classic Collection, bringing you timeless masterpieces that you and your family are sure to love.
About the Author
---
William Somerset Maugham was born in Paris in 1874. He spoke French even before he spoke a word of English, a fact to which some critics attribute the purity of his style. His parents died early and, after an unhappy boyhood, which he recorded poignantly in 'Of Human Bondage', Maugham became a qualified physician. But writing was his true vocation. For ten years before his first success, he almost literally starved while pouring out novels and plays. During World War I, Maugham worked for the British Secret Service . He travelled all over the world, and made many visits to America. After World War II, Maugham made his home in south of France and continued to move between England and Nice till his death in 1965.

Michael Page has been recording audiobooks since 1984 and has over two hundred titles to his credit. He has won several "AudioFile" Earphones Awards, including for "The War That Killed Achilles" by Caroline Alexander and "The Lies of Locke Lamora" by Scott Lynch.