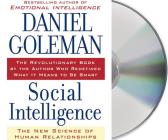 $50.99
Usually Ships in 1-5 Days
Description
---
"Emotional Intelligence" was an international phenomenon, appearing on the "New York Times" bestseller list for over a year, and selling more than five million copies worldwide. Now, once again, Daniel Goleman presents groundbreaking work that synthesizes the latest findings in biology and brain science, revealing that we are "wired to connect," and showing the surprisingly deep impact of our relationships on every aspect our lives.
In richly anecdotal detail, Goleman brings to life the entirely new field of social neuroscience that has emerged in the decade since the publication of "Emotional Intelligence." He shows that, far more than we are consciously aware, our daily encounters with parents, spouses, bosses, and even strangers shape our brains and affect cells throughout our bodies. Our relationships create a setpoint for our daily moods and influence our immune response; they are crucial to achievement in students and workers; they determine whether or not some genes are expressed, for good or ill.
Above all, Goleman explores the foundations of rapport, love, cooperation, and altruism, with major implications for the wellbeing of our families, communities, and workplaces. Whether you listen to this as a lover or parent, medical professional or businessperson, teacher or community leader, you will never see your relationships in the same way again.
About the Author
---
Daniel Goleman, PH.D. is also the author of the worldwide bestseller Working with Emotional Intelligence and is co-author of "Primal Leadership: Learning to Lead with Emotional Intelligence," written with Richard Boyatzis and Annie McKee.
Dr. Goleman received his Ph.D. from Harvard and reported on the brain and behavioral sciences for The New York Times for twelve years, where he was twice nominated for the Pulitzer Prize. He was awarded the American Psychological Association's Lifetime Achievement Award and is currently a Fellow of the American Association for the Advancement of Science His other books include Destructive Emotions," The Meditative Mind, The Creative Spirit, and Vital Lies, Simple Truths.
"

Dennis Boutsikaris received an Obie Award for his performance in Sight Unseen and was Mozart in Amadeus on Broadway. His films include *batteries not included, The Dream Team, and Boys On The Side. His TV work includes And Then There Was One, The Last Don and Chasing The Dragon; he was most recently the D.A. of NY in Sidney Lumet's 100 Centre Street.