---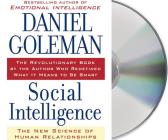 Social Intelligence: The New Science of Human Relationships (Compact Disc)
Usually Ships in 1-5 days
Description
---
Emotional Intelligence was an international phenomenon, appearing on the New York Times bestseller list for over a year, and selling more than five million copies worldwide. Now, once again, Daniel Goleman presents groundbreaking work that synthesizes the latest findings in biology and brain science, revealing that we are "wired to connect," and showing the surprisingly deep impact of our relationships on every aspect our lives.
In richly anecdotal detail, Goleman brings to life the entirely new field of social neuroscience that has emerged in the decade since the publication of Emotional Intelligence. He shows that, far more than we are consciously aware, our daily encounters with parents, spouses, bosses, and even strangers shape our brains and affect cells throughout our bodies. Our relationships create a setpoint for our daily moods and influence our immune response; they are crucial to achievement in students and workers; they determine whether or not some genes are expressed, for good or ill.
Above all, Goleman explores the foundations of rapport, love, cooperation, and altruism, with major implications for the wellbeing of our families, communities, and workplaces. Whether you listen to this as a lover or parent, medical professional or businessperson, teacher or community leader, you will never see your relationships in the same way again.
About the Author
---
Daniel Goleman, Ph.D., covered behavioral and brain sciences for The New York Times for twelve years and is codirector of the Consortium for Research on Emotional Intelligence in Organizations at Rutgers University. He has taught at Harvard, his alma mater, and addresses groups and businesses around the world. He is also the author of Emotional Intelligence, Working with Emotional Intelligence, and The Meditative Mind, and is co-author of Primal Leadership and Destructive Emotions. Dennis Boutsikaris, winner of AudioFile magazine's 2008 Best Voice in Nonfiction & Culture, has recorded more than 80 audiobooks for publishers in the United States and Great Britain.  His critically-acclaimed work has garnered four Golden Earphone awards from AudioFile magazine and four Audies from the Audio Publishers of America. His performances include reading novels by Richard North Patterson, Tom Clancy, John Grisham, and Joseph Finder.   Dennis has appeared in numerous Broadway, television, and film roles. He played Mozart on Broadway in Amadeus, and has appeared on television shows including Shameless, The Good Wife, House M.D., Grey's Anatomy, ER and Law & Order.  He has won two Obie Awards—one for Outstanding Performance in Nest of the Wood Grouse and one for Outstanding Performance in Sight Unseen. His films include W., The Education of Charlie Banks, *batteries not included, Dream Team, Boys on the Side, and Crocodile Dundee 2.
Praise for Social Intelligence: The New Science of Human Relationships…
---
"Excellent research, clear writing and a fluid abridgment will please both the casual and serious student of how people combine emotions and thinking in daily functioning…. The author uses captivating social vignettes to introduce each new section. Concise references to current research describe successful applications of his theory. The logic of this material and its social relevance are powerful and persuasive. The listener's interest and grasp of the material are maintained without pedantic introductions or musical transitions. This program sets a new standard for the abridgment and performance of a psychological work."
--AudioFile on Emotional Intelligence

"This book is the author's follow-up to his groundbreaking Emotional Intelligence. Here he focuses on using emotional intelligence at work; he explains why people who focus on skills and information are at a disadvantage compared to workers who have mastered their own emotions and understand the emotions of their co-workers."
--AudioFile on Working With Emotional Intelligence

---