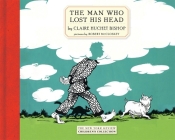 $14.95
Usually Ships in 1-5 Days
Description
---
It's bad news when you wake up in the morning and find you ve lost your head, especially if it's an especially agreeable and handsome head, but there you go, such things happen. In any case, the man who loses his head in "The Man Who Lost His Head" isn t about to grin (that is, if he could grin) and bear it. No, he ll make himself a new one, and starting with a pumpkin and moving on to a parsnip and finally picking up a block of wood, he sets about getting it just right. Still, for all his efforts, it somehow isn t right. It isn t the head he had before. It turns out that only a brash bold boy can save the man who lost his head from losing it altogether.
Claire Huchet Bishop's charming parable is illustrated by the great Robert McCloskey, whose books for children include "One Morning in Maine," "Blueberries for Sa"l, and the Caldecott Medal winning "Make Way for Ducklings.
About the Author
---


McCloskey attended Vesper George Art School in Boston and the National Academy of Design in New York. He divides his time between the Virgin Islands and Maine.
Praise For…
---
 "Awakening sans his head, the man at the center of the tale tries to remember where he left it....The solution is as madcap as the rest of the story...but the prose and Caldecott winner McCloskey's deliciously crisp artwork are evergreen."   --Publishers Weekly

"[Bishop] has contrived out of what seems to be an impossible situation an entirely diverting farce, beautifully turned in phrase with the kind of zany logic essential to good nonsense...Strongly drawn pictures cap the tale with comedy in good country style." --The New York Times