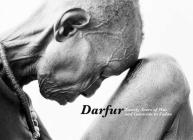 Description
---
The situation in the Darfur region of Sudan is desperate. The spread of violence, rape and hate-fuelled killings across the border into Chad is the latest atrocity in the horrific series of events. This book is a gripping and stunning call-to-arms in aid of the people of Darfur, and covers three periods in the Sudan crisis.
About the Author
---
Leora Kahn is a veteran photography editor who has worked on books, magazines, television, and documentaries. She was the editor of "When They Came to Take My Father: Voices of the Holocaust "(Arcade, 1996), the photo editor of "Shooting Under Fire" (Artisan, 2002) by Peter Howe, an executive producer of the documentary "Renee and I," and co-producer of "Original Intent," a documentary on the Supreme Court. She heads the photography department at Workman Publishing and is the founder of "Proof: Media for Social Justice," a nonprofit organization that works for human rights with photography.

"Darfur: Twenty Years of War and Genocide in Sudan" features the work of eight prominent photographers from "Magnum Photos," "VII," "Sipa Press," "Panos," and "Vu" who have covered the struggle in Sudan for the last two decades. Its writers include Jonathan Alter, a journalist for "Newsweek" and "NBC News"; Larry Cox, Executive Director of "Amnesty International USA"; Mia Farrow is an award-winning actress who has been a UNICEF Good Will Ambassador since 2001; Ryan Gosling, a young actor who most recently stared in "Half Nelson"; Nicholas D. Kristof, a Pulitzer Prize-winning columnist for "The New York Times "and previously its bureau chief in several countries; Susan Myers is Executive Director of the Holocaust Museum Houston; and John Prendergast, a Senior Adviser at the "International Crisis Group" and well known writer.

In addition, "Darfur" contains photographs by: Sven Torfinn, Chris Steele Perkins, Kadir van Lohuizen, Olivier Jobard, Ron Haviv, Colin Finlay, Lyndsey Addario, Pep Bonnet, Lynsey Addario, Pep Bonet, Colin Finlay, Ron Haviv, Olivier Jobard, Kadir van Lohuizen, Chris Steele Perkins, and Sven Torfinn; and essays by: Jonathan Alter, Larry Cox, Mia Farrow, Colin Finlay, Ryan Gosling, Nicholas D. Kristof, Susan Myers, and John Prendergast.