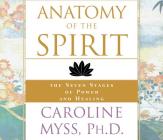 $24.95
Usually Ships in 1-5 Days
Description
---
Encoded within your body, teaches Caroline Myss, is an energy system linking you directly to the world's great spiritual traditions. Through it, you have direct access to the divine energy that seamlessly connects all life. On Anatomy of the Spirit, Myss offers a stunning picture of the human body's hidden energetic structures, while revealing its precise spiritual code and relationship to the sacred energy of creation.
Our most revered wisdom traditions, including Judaism, Christianity, and Hinduism, hold in common essential teachings about seven specific levels of spiritual development, the stages of power in life. These seven great truths also grace the human body as an energetic system, a spiritual compass pointing the way to the divine. By honoring this inborn code, you can learn to see the symbolic blocks within your energy centers and their correlations with your health, relationships, and spiritual development.
Richly interwoven with research, examples, and self-diagnostic guidelines, Anatomy of the Spirit will take you to the heart of the spiritual life and beyond.
About the Author
---
Caroline Myss is the author of the "New York Times" bestselling books "Invisible Acts of Power, Sacred Contracts, Why People Don't Heal and How They Can, " and "Anatomy of the Spirit, " and is a pioneer and international lecturer in human consciousness. In 2003, she founded the CMED Institute, an educational program that specializes in intensive classes on archetypes, personal power, and mysticism. Her audiotapes include "Entering the Castle" (Hay House) and "Why People Don't Heal and How They Can; Spiritual Madness;" and "Spiritual Power, Spiritual Practice" (Sounds True). Her work is featured on her popular website www.myss.com. She lives in Oak Park, Illinois.