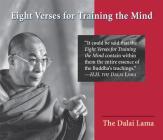 $29.95
Usually Ships in 1-5 Days
Description
---
At the invitation of the Conservancy for Tibetan Art and Culture in Washington, D.C., His Holiness the Dalai Lama gave a one-day teaching and commentary on the Eight Verses for Training the Mind to over five thousand Western and Tibetan students. These verses were transmitted to His Holiness when he was a small boy, and he has recited them every day since then as part of his personal practice.

His Holiness began the day by stressing the importance of implementing the teachings in daily life and went on to cover the complete fundamentals of Buddhist thought and practice. Then, drawing from personal experience in working with these teachings, His Holiness gave a profound and succinct commentary on the entire Eight Verses.

The day concluded with the bestowal of the vow for the Generation of Bodhicitta, the heartfelt motivation to become enlightened in order to benefit all sentient beings.

4 CDs, 3 ½ hours.
About the Author
---
ANI PACHEN lives in Dharamsala, India, where she devotes her time to her spiritual practices. She has chosen Dharamsala as her home in order to be near the Dalai Lama and his Tibetan Government in Exile. She continues to take part in demonstrations for a free Tibet, and speaks to people from around
the world who have conic to hear her story. She has become a heroine in the Tibetan community.
ADELAIDE DONNELLEY lives in Berkeley, California, near her two sons. She has worked as a psychologist, photographer, and write and has recently completed work on Boundary Water, a memoir. She and Ani have spent time together both in India and the United States, collaborating on the book.