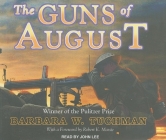 $39.99
Usually Ships in 1-5 Days
Description
---
Historian and Pulitzer Prize-winning author Barbara Tuchman has brought to life again the people and events that led up to World War I. With attention to fascinating detail, and an intense knowledge of her subject and its characters, Ms. Tuchman reveals, for the first time, just how the war started, why, and why it could have been stopped but wasn't. A classic historical survey of a time and a people we all need to know more about, The Guns of August will not be forgotten.
About the Author
---
Barbara W. Tuchman achieved prominence as a historian with "The Zimmermann Telegram "and international fame with "The Guns of August," which won the Pulitzer Prize. There followed five more books: "The Proud Tower," "Stilwell and the American Experience in China" (also awarded the Pulitzer Prize), "A Distant Mirror," "Practicing History," and "The March of Folly," "The First Salute" was Mrs. Tuchman's last book before her death in February 1989.
"From the Paperback edition."
JOHN LEE is a well-known herbalist, who practices in North Carolina and lectures widely.
Robert K. Massie was born in Lexington, Kentucky, and studied American history at Yale and modern European history at Oxford, which he attended as a Rhodes Scholar. He was president of the Authors Guild from 1987 to 1991. His previous books include "Nicholas and Alexandra, Peter the Great: His Life and World (for which he won a Pulitzer Prize for Biography), The Romanovs: The Final Chapter, and "Dreadnought: Britain, Germany, and the Coming of the Great War.
"From the Hardcover edition.
Praise For…
---
"Fascinating.... One of the finest works of history written.... A splendid and glittering performance." ---The New York Times