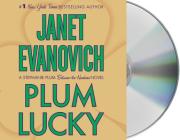 $19.95
Usually Ships in 1-5 Days
Description
---
Looking to get lucky?
Stephanie Plum is back between-the-numbers and she's looking to get lucky in an Atlantic City hotel room, in a Winnebago, and with a brown-eyed stud who has stolen her heart.
Stephanie Plum has a way of attracting danger, lunatics, oddballs, bad luck . . . and mystery men. And no one is more mysterious than the unmentionable Diesel. He's back and hot on the trail of a little man in green pants who's lost a giant bag of money. Problem is, the money isn't exactly lost. Stephanie's Grandma Mazur has found it, and like any good Jersey senior citizen, she's hightailed it in a Winnebago to Atlantic City and hit the slots. With Lula and Connie in tow, Stephanie attempts to bring Grandma home, but the luck of the Irish is rubbing off on everyone: Lula's found a job modeling plus-size lingerie. Connie's found a guy. Diesel's found Stephanie. And Stephanie has found herself in over her head with a caper involving thrice-stolen money, a racehorse, a car chase, and a bad case of hives.
"Plum Lucky" is an all-you-can-eat buffet of thrills, chills, shrimp cocktail, plus-size underwear, and scorching hot men. It's a between-the-numbers treat no Evanovich fan will want to miss.
About the Author
---
Bestselling author Janet Evanovich is the recipient of the Crime Writers Association's John Creasy Memorial, Last Laugh, and Silver Dagger awards, as well as the Left Coast Crime's Lefty award, and is the two-time recipient of the Independent Mystery Booksellers Association's Dilys award. She lives in New Hampshire.
LORELEI KING has recorded over 200 audiobooks, including several titles from Janet Evanovich's bestselling Stephanie Plum series and Darynda Jones's Charley Davidson series. Her many awards include the 2008 Audie Award for Female Solo Narration for "Tallgrass" by Sandra Dallas, the Radio Times performer of the Year for "The Blind Assassin" by Margaret Atwood, and "AudioFile" Earphones Awards for "Eleven on Top" and "Twelve Sharp, " both by Janet Evanovich. "AudioFile" also deemed her one of the "Best Voices of 2008."
King's screen credits include "Notting Hill, House of Mirth", and "Cold Feet", among others. She has appeared as regular and recurring characters in popular British television shows such as "Chef, Cold Feet", Alistair McGowan's "Big Impression, Emmerdale, " and the saucy "Mile High". King now makes her home in London, where she lives with her husband, actor Vincent Marzello.
Praise For…
---
Praise for Janet Evanovich:
"Stephanie Plum is a bounty hunter with a great sense of humor that balances out her attitude and worse luck...like Dorothy Parker with a lousy job and a Jersey accent."--Time  "Chutzpah and sheer comic inventiveness…in addition to good fun, the Evanovich/Plum books serve as a nice antidote to everything in pop fiction today."
--The Washington Post
  "Evanovich is possibly the only mystery writer whose extreme humor can turn what should be serious moments into boisterously funny scenes....Evanovich makes comedy into a kind of art."
--South Florida Sun-Sentinel Praise for Lorelei King:
"King keeps up with the fast pace of this story as well as cameos by all the eccentrics in the Plum cast, and creates astounding tension by capturing the cross-fire sarcasm of Diesel and Stephanie."  —AudioFile on Plum Lovin' "Lorelei King once again displays her impeccable versatility as she portrays a dozen characters, not only sexy, savvy 30-year-old Plum, but also Plum's two loves—mysterious Ranger and tough Vice cop Joe Morelli."    —AudioFile on Twelve Sharp
 Winner of the Earphones award for truly exceptional presentations "This spunky little book is packed with great characters, fast-paced actioni, and a good deal of humor...Narrator Lorelei King does a terrific job creating memorable voices for all the characters, and she excels at keeping conversations moving.  King also has excellent diction and pacing, revving up the action as we move toward the book's fiery conclusion.  Evanovich fans will be happy that Plum has returned, and she'll hook many new readers to her stories." - AudioFile