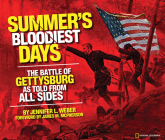 Description
---
Timed for the Civil War anniversary in 2011, this book powerfully illustrates a true turning point in American history. Gettysburg expert Jennifer Weber tells the story of the momentous battle through the voices of those who were there, a unique approach that makes this title stand out from all others.
Gripping eyewitness accounts, archival photographs, and dramatic artwork combine with the latest research to portray the Battle of Gettysburg from all sides--Yankees and Rebels, officers and foot soldiers, men and women, townspeople and outside observers. Through their eyes, today's students get a real sense of how a chance meeting on a dusty road exploded into three days of intense combat. Maps specially created by National Geographic cartographers help us follow all the action of the vicious and complex battle, during which more than 50,000 people were killed, wounded, or taken prisoner. Names such as Little Round Top, the Peach Orchard, and Pickett's Charge take on new meaning as young readers learn about the incredible sacrifices made--often by people still in their teens.
National Geographic supports K-12 educators with ELA Common Core Resources.
Visit www.natgeoed.org/commoncore for more information.