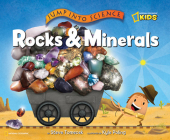 Description
---
Kids will gravitate to Steve Tomecek's humorously illustrated guide, which surveys the earth's astounding variety of rocks and minerals and the fascinating ways people have transformed them into usable materials. From talcum powder to silver jewelry, it all comes from inside this great big rock we live on. A high-interest topic for youngsters as well as an important segment of the elementary science curriculum, this book is in a kid-pleasing format and includes a bonus activity.
National Geographic supports K-12 educators with ELA Common Core Resources.
Visitwww.natgeoed.org/commoncorefor more information.
About the Author
---
Steve Tomecek, the Executive Director and Founder of Science Plus, Inc., is the author of numerous books, including three other Jump Into Science titles. He was the winner of the 1996 American Institute of Physics Excellence in Science Writing Award. He lives in Bellerose, NY.
Liisa Chauncy Guida studied at the Pratt School of Art and Design in New York City. She gazes at the moon in the clear skies over her home in Avon, CO.

Kyle s passion for art began at a very early age and led to art lessons beginning in kindergarten. Throughout high school Kyle won various local and national art competitions. During these years, he began developing a portfolio which led to his acceptance to Columbus College of Art and Design. In college, Kyle s interests expanded to include comics, animation, sculpting, illustration, toys, architecture, writing, traditional painting, and photography. In 2004 Kyle graduated with a BF in both Illustration and Animation. Upon graduation, Kyle was hired by American Greetings in Cleveland where he specialized in Juvenile and Humor card illustration. Upon leaving American Greetings, Kyle quickly developed a client base including children's art for cards, trade books including picture books, first & young reader books, board games, and educational textbooks. Kyle Poling is represented by Liz Sanders Agency at (509) 993-6400.